Juventus FC have confirmed the signing of 18-year-old centre-back Carlos Blanco Moreno.
The former Barcelona player was a free agent after his contract  with the Blaugrana expired.
He signed a three-year contract with the Bianconeri who beat off competition from Real Madrid for the youngster.
Here's a few pictures of his signing:
Signing his Juventus Contract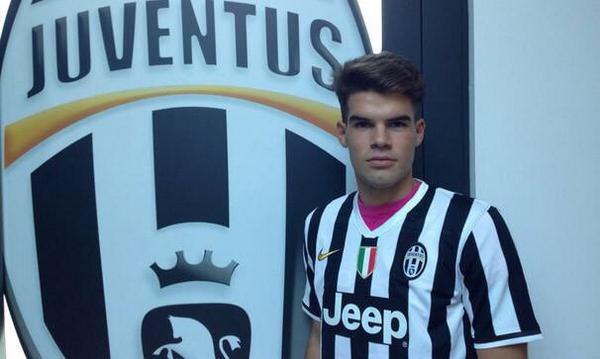 Officially unveiled as a Juventus player
I managed to track down a very detailed article that offers more information on the player [The following is taken from TotalBarca.net]
Do you know many center-backs with the ability to swing in accurate free-kicks, in Andrea Pirlo style, time and time again? I don't know many, but FC Barcelona may have one of those extraordinary center-backs with such uncanny ability. 18-year-old Carlos Blanco has been the author of many spectacular goals during his eight years as a blaugrana. The odds are that in each compilation of the best goals of the season in the academy, you'll see at least one of his pearlers. Recently, he has added another two to the collection with an audacious lob from the halfway line away to Damm and a spectacular long-range free-kick against Gavà. Surely, there is no one at La Masia possessing such accuracy and power in the shot as the 18-year-old centerback, captain and undisputed leader of the Juvenil B, Carlos Blanco.
Carlos Blanco, born January 6, 1996 in Barcelona, took his first steps as a footballer in the prebenjamín team of Cornellà, and then had a further two years as a benjamín in the ranks of RCD Espanyol. Blanco excelled as a blanquiazul and, quite inevitably, attracted Barça's interest. He accepted an offer from Barça and joined the alevín B team.
His first coach at La Masia was, quite curiously, the current technical secretary of the academy, Albert Puig. His alevín A coach was Andrés Carrasco (who has now returned to Georgia to take charge of the youth system at FC Saburtalo, having previously served as Álex García's assistant at Dinamo Tbilisi). Carrasco's team, featuring Blanco, won the Catalunya Championships after beating Espanyol in the final 3-0, as well as the MIC tournament, after a narrow 1-0 win over Real Madrid in the final.
He spent his two infantil years with the exact same coaches, under Puig's orders at infantil B, and under Carrasco at infantil A. His first year in that category has gifted him one of his best moments to date, the 7-2 final win over Benfica in the prestigious Maspalomas tournament, in which current Juvenil A full-back Fran scored a hat-trick.
After promotion to cadete B, he trained under Fran Artiga while having Quique Álvarez in the cadete A. In that year, Blanco scored an all-important goal in the Barcelona derby against Espanyol to win his team the league with two games left to play, with the city rivals getting revenge in the Campeonato de Catalunya with a penalty shoot-out win.
Since last year, Carlos has been a member of the juvenil B, with García Pimienta being his coach. Last season had been extraordinary for the team, as they managed to win the league with a 19-point margin to second-placed Espanyol, and the Campeonato de Catalunya with a 3-2 final win against Badalona, as well as an international tournament played in Moscow, which featured teams like Benfica, Tottenham, Spartak, Celtic and Dinamo Kyiv.
In the current season, the team hasn't been able to reach those same heights, as the numerous high-profile departures in the summer seem to have taken their toll. Juvenil B lost Josimar (Chelsea), Pleguezuelo (Arsenal), Sergi Canós (Liverpool) and Sergio Buenacasa (Juventus), to name a few, and replacing them was never going to be easy. That does not mean that they are doing badly. At the moment, the blaugranas are second in the league after surpassing Mercantil, five points adrift of leaders Lleida.
The team has been able to go along largely thanks to the efficiency and impeccable character of Carlos, who has really been carrying the whole team on his shoulders on numerous occasions. The 18-year-old has played games while being injured, and in the past couple of games he has scored goals of great value to the team, such as the equaliser at Hospitalet (1-1) and one of the team's three against Gavà.
Apart from his extraordinary kick which also allows him to send accurate long balls to the team's wingers from the back and his leadership qualities, Carlos also stands out for his excellent aerial ability (1.88m tall) and his aggression. He has to work on handling the ball with his left, leaving the attacker with no option, and on making safe choices while being the last man. However, with time well on his side, his burning desire to improve and excellent attitude, Carlos Blanco really has everything required to make the breakthrough.