It's official: Paul Pogba is returning to Old Trafford having signed a five-year contract with Manchester United.
The French midfielder has finally put an end to a summer of speculation and protracted newspaper headlines by announcing his transfer via social media:
— Paul Pogba (@paulpogba) August 8, 2016

Pogba is expected to cost United €110 million, thus becoming the most expensive transfer in footballing history while putting pen to paper on a five-year contract with United, worth a staggering €13 million per season.
Speaking to the official Manchester United club website, Pogba spoke of his return to the club he left four years ago.
"I am delighted to rejoin United," Pogba told the website.
"It has always been a club with a special place in my heart and I am really looking forward to working with Jose Mourinho.
"I have thoroughly enjoyed my time at Juventus and have some fantastic memories of a great club with players that I count as friends.
"But I feel the time is right to go back to Old Trafford. I always enjoyed playing in front of the fans and can't wait to make my contribution to the team. This is the right club for me to achieve everything I hope to in the game."
Thanks @juventusfc and all Juventini. Goodbye means nothing, it is the time we spent together that matters 🙏🏾❤

— Paul Pogba (@paulpogba) August 8, 2016
Manchester United released a brief statement outlining the transfer:
Manchester United is delighted to announce that Paul Pogba has completed his transfer from Italian club Juventus. Paul joins on a five-year contract, with the option to extend for a further year.

Paul, 23, has been with Juventus for four seasons, making 124 appearances and scoring 28 goals. He joined the Bianconeri from United in 2012.

The midfielder has been capped by France on 38 occasions, scoring 6 goals and was a member of the recent squad that reached the final of Euro 2016.
Juventus have also confirmed the transfer via the clubs official website:
Juventus Football Club can today confirm that Paul Pogba has completed a move to Manchester United for a fee of €105 million to be paid in two financial years. The consideration may increase by € 5 million on achieving given conditions in the course of the duration of the contract.
Pogba gave a brief farewell to Juventus in a video recorded for his social media account, a translation of which reads: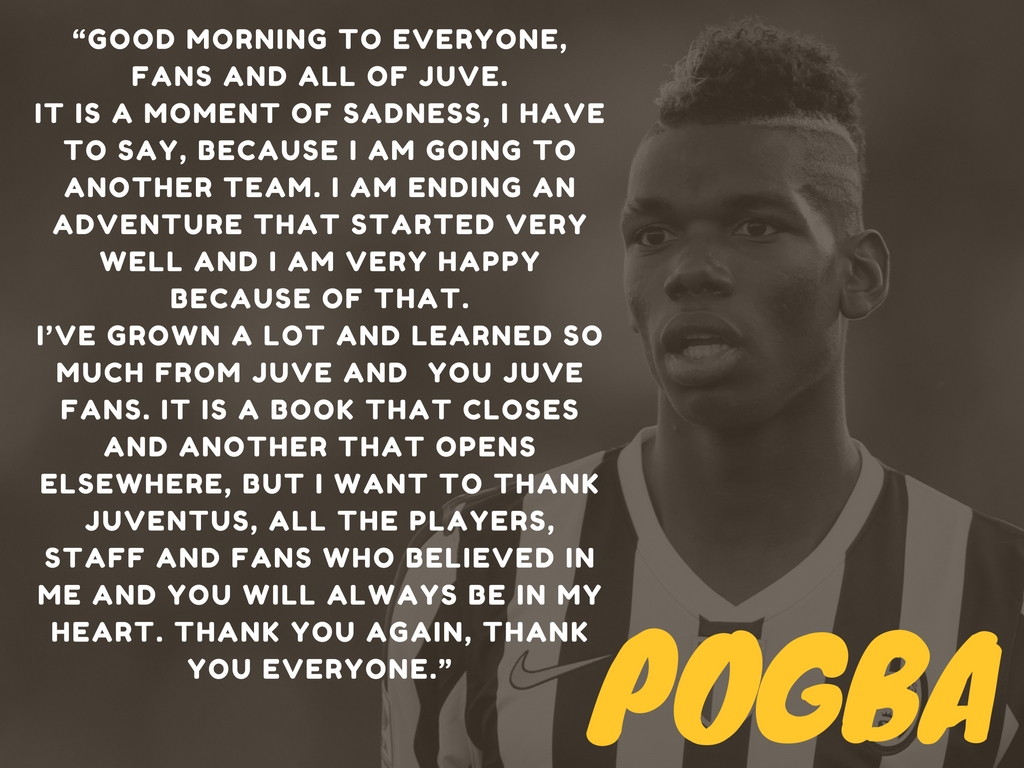 Thanks for 4 years Paul. Good luck in Manchester.