Olympiakos                                                 1-0                                          Juventus        

Kasami 36 (O)
---
Champions League – Game Day 3  [22nd October 2014]  – Stadio Georgios Karaiskáki
It's the same old story. Juventus doesn't cut it in Europe against a lesser quality opponent. Today it was Greek champions Olympiakos, but other than the the script remained the same: Juventus disappoint. Now, having lost 1-0, Juventus are in third place in the group, with three matches remaining. Qualification is still very much possible, but it's going to be hard, and there is no margin for error.
So what went wrong? Basically everything. The team was terrible in the first half. In fact, Olympiakos dominated the first five minutes. At that point, one might think Juventus were just adjusting to the game, sussing things out. But no, they weren't. While they managed a handful of attacks – mostly via Alvaro Morata who was the best Juventus player today – Olympiakos controlled most of the guy.
It didn't help that Juve's starting regista, Andrea Pirlo, had perhaps his worst ever game in the black and white today. Pirlo was not Pirlo today, with a disturbingly high number of give away and bad passes. His free kicks were even pretty poor, although one or two posed a threat. His biggest contribution came when one of his corners led to an offside Carlos Tevez goal.
Elsewhere, Olympiako's direct play style gave the Juventus defense fits in the first half. They cause trouble in the second half too, but at that point Juve were keeping a hold of the ball more, so there were few chances for their defense to blow it.
Speaking of blowing it, Juve's defenders totally dropped the ball today. Olympiakos' lone goal was one of several first half scoring chances, and the defense completely failed on this one. But it all started with a Pirlo interception.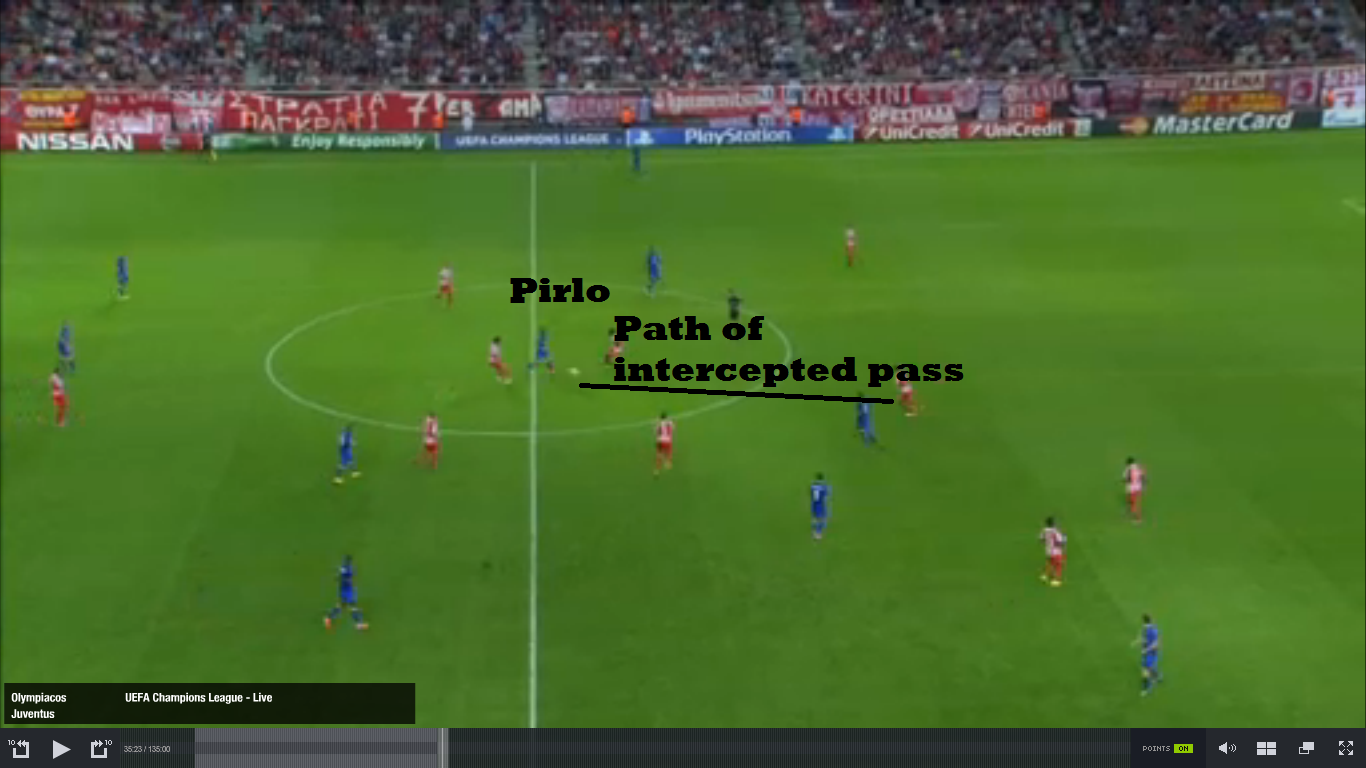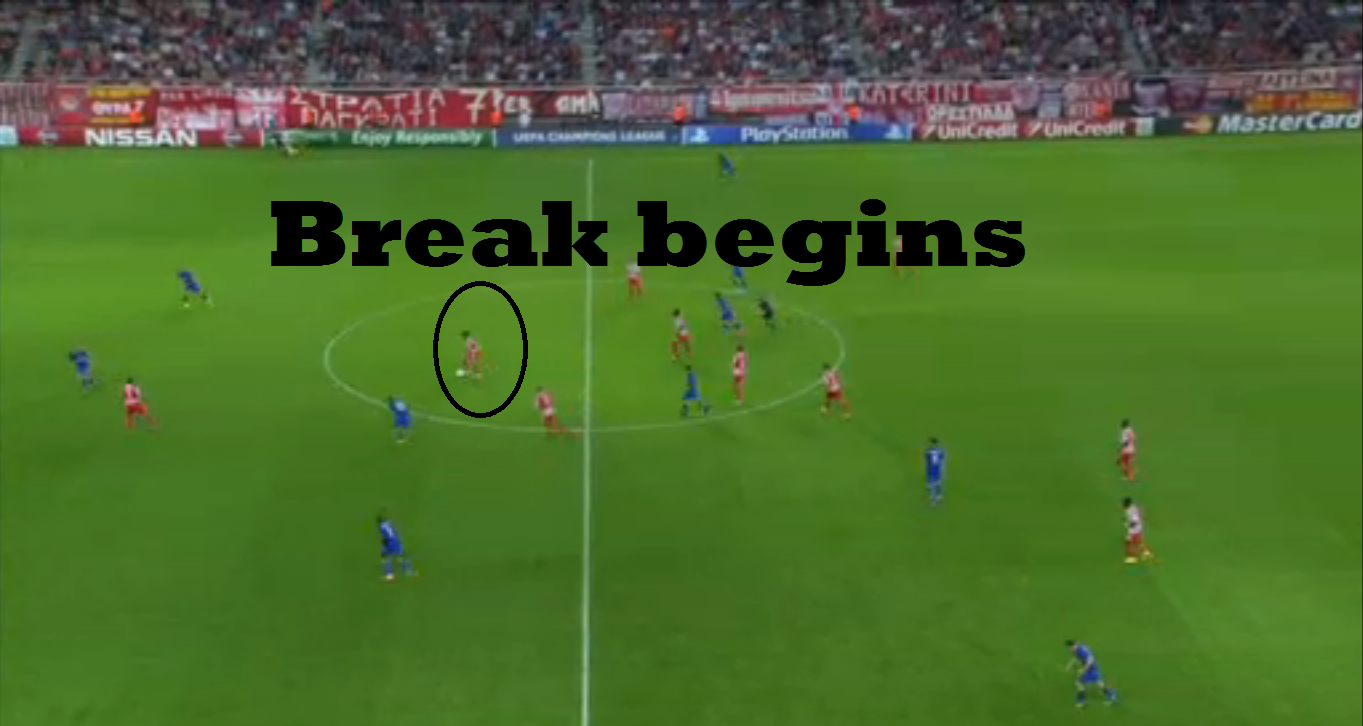 So, the poor Pirlo pass leads to an Olympiakos counter attack. This evolves into a two versus three in Juve's half, with Pajtim Kasami lurking behind. Angelo Ogbonna ends up in the space between Kasami and Olympiako's counter-attack, but doesn't really do anything. This leads to Kasami getting a great chance on goal from the edge of the 18 yard box, and the game's lone goal.
From there it was not too complicated for Kasami, and he finished his chance. Buffon, who had made some good saves in the first half, could not stop this one.
Juventus didn't do much in the first half, but I must say they improved in the second. Andrea Pirlo came off for Claudio Marchisio shortly after halftime. They still weren't very good, but they at least kept possession and built attacks. Olympiakos keeper Roberto made some stunning saves to deny – mostly – Alvaro Morata time and time again. Morata built on his decent first half and had a very solid second, confirming that he should be starting over Fernando Llorente.
Juve's attack was stunted by a consistent lack of effectiveness. They would go wide, and then whip in a maybe threatening cross, or just hope to play the ball off a defender for a throw in. The wide play was not very good, and Pogba and Vidal's journeys out wide didn't provide much of a threat to the Greeks either.
Even the great Carlos Tevez was unable to conjure up any magic, though Morata covered for him on this night. Tevez had some brief shining moments during Juve's twenty minute run of consistent attack in the second half, but it wasn't too special compared to any of his other performances this season.
It was one of the worst performances we have seen from Juventus in recent memory. To make matters worse, Juve will likely crush Palermo in Serie A this weekend. This will only frustrate us further as the disparity between Serie A and Champions League results continues. From here on out though, every match for this group is a playoff.
---
Statistics
| | | | | | | | | |
| --- | --- | --- | --- | --- | --- | --- | --- | --- |
| | Man of the Match: | Alvaro Morata | | Corners | 7 | | Total Shots:  | 18 |
| | Flop of the Match: | Fernando Llorente | | Pass Accuracy: | 81% | | Ball Possession:  | 63% |
| | Fouls: | 14 | | Shots on Target:   | 5 | | Formation:  | 3-5-2 |
Formation: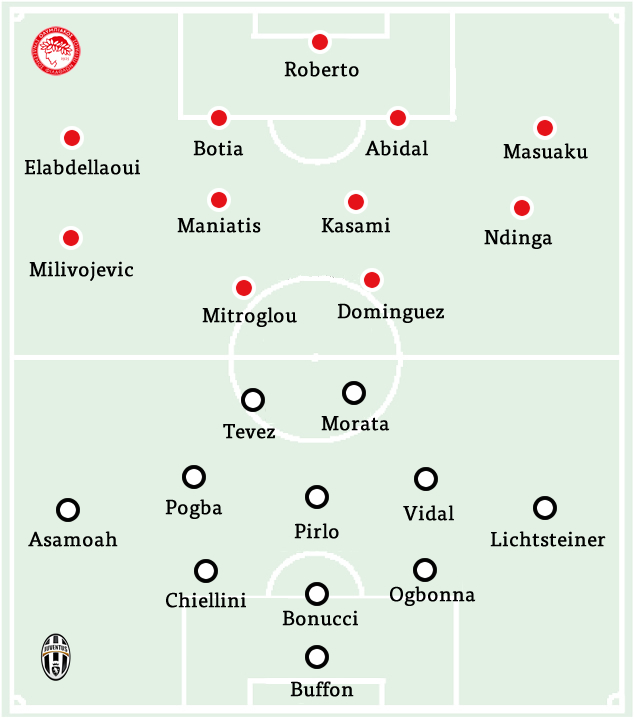 ---
Lineups:

  Olympiakos: Roberto; Elabdellaoui, Botia, Abidal, Masuaku; Maniatis, Kasami (Giannoulis 90); Milivojevic, Dominguez (Fuster 85), N'Dinga; Mitroglou (Afellay 69)

  Juventus: Buffon; Ogbonna (Pereyra 77), Bonucci, Chiellini; Lichtsteiner, Pogba (Giovinco 87), Pirlo (Marchisio 57), Vidal, Asamoah; Morata, Tevez
Ref: Mazic (SRB)
---
Video Highlights:
https://www.youtube.com/watch?v=BzWd6_j4QlU