Parma 0-1 Juventus

Scorers: Chiellini 21 (J)

---
A good first half from the Bianconeri gave way to some familiar habits in the second.

It was hard not to feel a little deflated by the starting XI, especially seeing so many of those players that were perhaps synonymous with Max Allegri and his tactics get the nod. I should say, that is not a criticism or worse still, an insult aimed at Max, simply an observation that we went with many experienced heads after a summer of what was initially perceived as a drastic change in direction/philosoph. It simply would have been more encouraging to see a Matthijs De Ligt at the back or Adrien Rabiot in the midfield from the start.
Putting that aside, the performance in the first half saw some of Maurizio Sarri's work come to fruition: The passing was tight and fast with the players all looking in one direction and a focus on attack. That might sound a little reductionist, but the change was noticeable to me, for 45 minutes at least; The team worked to push forward, contain Parma and then play the ball quickly on either flank to try to create chances.
Giorgio Chiellini scored the only goal and while it gave Juve a valuable three points, it was an untidy effort and perhaps an indicator of where Juve are at present: Reliant on the old heads, still with a hangover from last season (and it's ideas). It would have been nice to see one of Cristiano Ronaldo's many efforts find the back of the net, but as it is, to start the season with a healthy win in a traditionally tough place to visit, it's hard to have any real complaints.
Random Thoughts
– Juventus will be all the better for having Maurizio Sarri on the sidelines. Giovanni Martusciello did a fine job, but having the architect of the new-look Juve in attendance and barking orders will have more of an impact on the squad and will serve them better over the course of the season. He needs to be to relay what it is he wants from his players and his presence was missed.
– There was some congestion in areas, players bunched up and not knowing their role. I suppose that's inevitable as they find their feet and better understand what is asked of them, but it was most evident in attack as Ronaldo and Gonzalo Higuain found themselves occupying the same space on occasions. They need to find space from one another to stretch tight defences.
– Miralem Pjanic played a wonderfully understated role, almost Pirlo-esque, dictating things, stepping in to tackle and coming close to taking the 150 touches of the ball that Sarri suggested. While I'm sure the number itself wasn't important, the symbolism was; Sarri views Pjanic as his Jorginho, pulling the strings, being the fulcrum of the midfield and while goals and assists aren't important, his ability to run the game certainly is, and this was a step in the right direction.
– Higuain was remarkably unselfish. There was a time he would be demanding the ball, raising his hands in consternation at his teammates inability to find him with the right kind of pass. Instead, he dropped deep to collect, took a few touches and helped Juve transition into attack. I don't know if this is his down to his desire to fit in and stay at Juventus to play a key role in the season ahead, or is he simply trying to fit in until the mercato is closed before reverting to type. If he is willing to sacrifice, as Karim Benzema did at Real Madrid, it could work in our favour.
– Paulo Dybala sat on the sidelines and didn't even feature as a substitute. The Juventino in me wants to believe Fabio Paratici's comments when he said that this is not related to the market in any way…..but the realist says that there is still a good chance that they are keeping him fresh and not risking injury as he could yet be sold in the closing week of the mercato.
– Douglas Costa looked reborn, covering both flanks to help create in attack and even drop back to offer a tackle or two in defence. He is raring to go and looked buoyed by Sarri's words in the pre-season which suggested that he is a player with untapped potential. He needs to make a big contribution.
– Sami Khedira and Blaise Matuidi were OK….and little else. There were some nice moments, a good touch or two, but both are ageing, lacking in intensity and only contribute in snatches in an attacking sense. It's fine to see them play in these opening games which carry little significance beyond getting three points and offering continuity, but in a months time and in the Champions League, the hope is that we have Pjanic flanked by Aaron Ramsey and Adrien Rabiot and perhaps,  by some miracle, another midfielder who could offer a little more bite in the centre.
– Alex Sandro was exceptional and much more like the player he was two seasons back. Of course, we saw this at times last season – A good performance or two, only to see him revert to type and play 4/5 games in succession where he offered next to nothing. The hope is that if Ronaldo and Higuain will play as a two up front, Matuidi will push out wider and do the dirty work so that Sandro can overlap and play as an auxiliary left-winger, offering the pace and width to help stretch opponents. Watch this space.
– Mattia De Sciglio did well. I know that doesn't fit into the construct of people lamenting the loss of Joao Cancelo and the massive downgrade in quality, but the simple fact is, De Sciglio was tidy at the back, made some well-timed tackles and offered a good outlet in the attacking phase. He's not world-class, he may not even be at Cancelo levels, but he is efficient and a good defender. For me, it wasn't a big issue to see him staying back while Juve focussed their attack down the left as he did a fine job of containing Gervinho.
– Higuain and Cristiano seemed to link up well and it was Pipa's unselfish work that freed up the space for Ronaldo to manage his 5 efforts, one of which should have stood as a valid goal. While Cristiano seems to have found his perfect foil, I hope this isn't a sign of things to come as young Dybala still needs to play a role, and while he isn't as muscular or physical in the box, he can play a similar type of role to Pipa. In the past, however, it's been Dybala exploiting a tall and physical type next to him (see Mandzukic) – I wonder if there is a place for a player like Ronaldo who thrives on goals to be alongside a type like Dybala who also is a better goalscorer than an out-and-out number 9 who would be expected to simply occupy space for Cris to flourish.
– It was sweltering in Emilia-Romagna yesterday, the players were returning from breaks and in some cases, competitions for their national sides. Cut them some slack, it would be incredibly harsh to expect free-flowing attacking football after a summer of 4/5 friendlies and a few training sessions. This is a work in progress, bourne of a change that the club felt they needed, in part, to accommodate a demanding fan base. The change has come, but it will not be immediate and it will not be overnight.
Injury updates:
Douglas Costa limped off but its not thought to be anything serious, perhaps simply linked to fatigue. Aaron Ramsey is still not 100% and was dropped from the squad along with Marko Pjaca who is working to recover full fitness.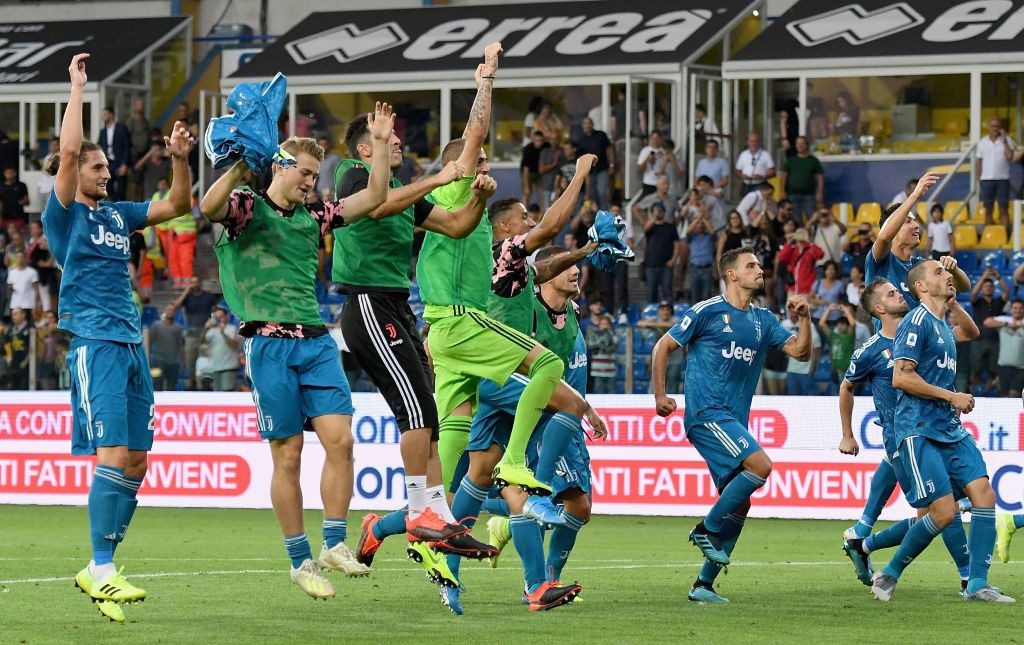 Statistics:

Man of the Match: Chiellini


  Flop of the Match: Matuidi


  Corners: 8


  Pass Accuracy: 88%

  Shots on Target: 4

  Total Shots: 14

  Ball Possession: 62%


  Formation:  4-3-3
Opposition:
Parma did well enough for a side that was boxed in for large spells and only in the second half did they sense an opportunity to capitalise, due to Juve's ineficiency in front of goal. On another day, with better finishing, they could have scored an equaliser so they should take heart from containing the champions to a 1-0. Roberto Inglese in particular impressed me – He ahd a good game overall and created a few half chances.
Outlook for next fixture:
Napoli is a tough match in prospect, especially as they, along with many other sides, raise their game against Juventus. They came away with a narrow 4-3 win over Fiorentina yesterday, aided by a woeful penalty call in their favour and the referee and VAR missing a blatant penalty in Fiorentina's favour, late on. Their centre-back pairing looks to be finding their feet and while their attack can be devastating, they are ponderous at the back and thats exactly what Juventus should look to exploit. That defence can be got at and the wide positions should be exploited. The concern is that Bonucci and Chiellini may not have the legs to cope with the likes of Mertens, Insigne and Callejon. I hope we see young De Ligt and better yet, Merih Demiral get some minutes – They may not be up to the task, but let this be their crucible and let it be early in the campaign when points can still be made up. They need to learn and it should be in the tougger fixtures.
Best new signing on the field:
With only Adrien Rabiot getting time from the new crop, he is the only contender here and while he had a touch or two, you get the sense that this was simply to blood him in the ways of Serie A and get some minutes in his legs. He will have a bigger role to play as the season develops as I think he might be the most underrated of our signings this summer.
Match Highlights:
Manager Review: 6/10
Martusciello deputized but the sense is that the starting Xi and substitutions were down to Sarri and Sarri alone. With that in mind, I understand the need for stability and using experience, but it would have been so much better to see the likes of De Ligt and Dybala get some playing time. The whole reason for change was because fans and management alike had grown tired of Allegri's 'conservative' approach. This was equally conservative and it would have been infinitely better, speaking as a fan, to see them throw caution to the wind and blood the youngsters in a tricky away tie. If we had dropped points, so be it, as we have time to make it up. We need to see real, palpable change; We didn't, and in the second half, Juve reverted to old habits and sat back on occasion, invited pressure and wasted chances in front of goal. The newer players may not have reverted to those patterns, they need to be playing.
Lineups:
Parma: Sepe; Laurini, Iacoponi, Bruno Alves, Gagliolo; Hernani, Brugman (Grassi 77), Barillà (Karamoh 85); Kulusevski (Siligardi 57), Inglese, Gervinho
Juventus: Szczesny; De Sciglio, Bonucci, Chiellini, Alex Sandro; Khedira (Rabiot 63), Pjanic, Matuidi; Douglas Costa (Cuadrado 71), Higuain (Bernardeschi 82), Ronaldo
Ref: Maresca