The following interview first appeared in Forbes magazine and was lovingly translated to English by Radek Jaska – You can follow Radek on Twitter here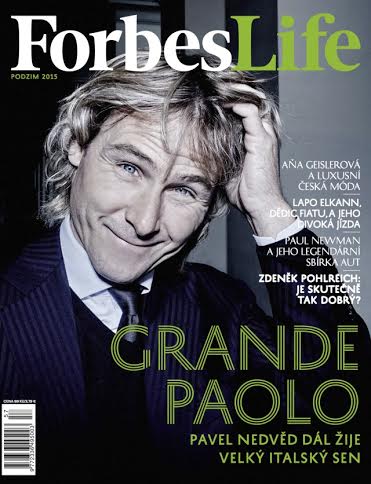 The camera often chooses you during matches. Are you this nervous all the time?
Here in Italy everyone is so emotive during matches. Juventus is in my heart. I have got to know the club as a player and as a board member so I live and breathe the club. I was very emotive as a player so I carried it with me to the stands as well. It's very hard to hold back.
Isn't it getting better as the time goes? It's been six years since you last played a match.
No. Since I'm not a player anymore, I'd say it's getting even worse. I'm very often feeling stressed because I can't help our guys. I have to get used to it but it's very hard. I know what should be done on the pitch but I can't change it. For example the CL final this year was horrible. In 2003 we were in the finals as well but I couldn't play. This year it all came back to me. I was sitting in the stands and couldn't do anything. Again. I guess it's destiny but I would like to win it someday so I can rest in peace. I think it was my worst moment of me career. I was at my best, I knew I would help the team, but I couldn't. Now I'm somewhere else and my role is different, though.
Why aren't you a coach? You could help the team much more that way…
I'm not really rushing myself into it. I know what it takes and coaching these days isn't something you do for fun. You have to be ready in all aspects, just tactics isn't enough, you have to be a good psychologist as well. I don't know if the bench would be the right place for me. I like doing what I do. I have found myself in my role.
What is it that you do exactly?
I am a member of consiglio di amministrazione or managing board. There were 16 of us then it got reduced to 12 and in November there will be elections for another 3 years. I rather say though, that I am a consigliere or an adviser. President Agnelli brought me here to be by his side and help him with sporting issues.
How does it work in practise?
When we are dealing with important issues like which player we are able to buy there are 4 of us at the meeting (Agnelli, Marotta, Paratici). I and Paratici always come with some ideas and Agnelli and Marotta say no (laughter). This year it's going well, after 6 seasons we are finally in green numbers so we could spend some money in the summer.
Do you have your own office?
No, I don't. I use a conference room. I wouldn't be able to sit in front of a computer for a long time and it wouldn't also make sense. I am an intermediary, between the offices and sports center. This way I am useful. I am with the team on a daily basis, I watch the team training because I see things others don't. As for the headquarters of the club, I go there two or three times a week when it's an important meeting or our sponsors visit us.
Does Agnelli take you with him to some important meetings so you could 'open important doors' with your name?
He is a person who doesn't need that. I go with him to talk to players we are interested in. When we were negotiating with Van Persie or Tevez, it's a good thing when there's a former player who has achieved a lot sitting in front of them.
Did it occur to you that you are the only Czech that managed to get into a top football team's management?
You see, I've been at Juventus since 2001 and to be abroad in one team for 14 years it's a very long time, especially for a foreigner. You really do have to have something unique to be taken seriously and to be appreciated. You also have to keep proving it. Maybe it was just a coincidence and fate that got me this opportunity.
How did it happen?
A year after I had retired, Agnelli took over Juventus and I was the first one he came to and asked if I would go with him. We've known each other for a long time, his father, Umberto, bought me to Juve so it would be hard to say no to him. I didn't even want to come back yet, I was tired and even though it was a year it seemed like it was just two weeks.
If it wasn't for Agnelli, you might not be at Juventus today, right?
Right. I said yes because of him. They wanted me in the management right after I retired but I said yes only when I found out that there is another Agnelli on the board. Because Juventus and Agnelli belongs together for more than 90 years. I knew it would work and I was right. We've won 4 league titles in the 5 years and reached the UCL final. That's not bad.
How is the Agnelli family seen in Italy?
It's always been family number one for Italians. Maybe Berlusconi comes close. The Agnelli family owns Gruppo Fiat which has under its wings a lot of car factories such as Maserati, Fiat or Ferrari. They give jobs to many people so it can be said that Italy and Agnelli also belong together.
How much is Juventus dependent on FIAT's money?
The success of FIAT is important for us but we are trying not be dependent on anyone and be able to run from what we make. When Andrea Agnelli came to Juve, we were in loss to the amount of €95m. His family then raised capital by €120m and we worked from there. We kept lowering the debt and finally in the last season we made a profit of €2.3m.
And you even managed to build a new stadium for more than €100m…
It helped us because our gate revenues tripled. The club has to grow and it has to be a money machine. People are crazy about football in Italy. Even if they were completely broke and couldn't pay for food, they would somehow buy a ticket for a football game. That's really incredible. I think Agnelli runs the business right.
How it feels to be part of the most powerful family in Italy?
Andrea's father used to live near our house. Every Sunday he and his wife would take their dogs and visit us. I wasn't doing well during my first months at the club and this kind of thing helped me a lot. Andrea and I play football every Thursday evening. We have a little team and one time I took them to my hometown Skalná (small city in the Czech Republic).
The Juventus president in Skalná…?
Yeah, I wanted to show him the place I grew up in, so 3 years ago I arranged a friendly match between our team and the local team. Skalná have a population of cca 1.5k and back then almost everyone was on the pitch to see us. It was a big thing there. I was happy that a man of Agnelli's reputation came to our little village.
What did Agnelli say about the town?
He loved it! He is a down to earth guy. He loves our filthy bar in Turin where we have a beer every Thursday night. He was with us also in a pub in Skalná. He liked that one the most! It was very nice.
Many famous players played for Juventus but you seem to be loved the most? Why is that?
I guess it's because of my style of play. I was always giving 100% and people saw it. They can appreciate it. It also helped when I stayed when Juventus was relegated to Serie B. There were 5 of us. We could have gone anywhere, we had offers but we decided to stay. We then became immortal in the eyes of fans. Though, I thought it was only normal. The club was going through tough times and we just gave the club something back. I'm glad we managed to come back to Serie A the very next year.
You also ran the risk that you would ruin your career, no…?
Sometimes, you mustn't think about risking your career and make a decision right from your heart. I have always had everything at Juventus and I wasn't missing anything. It was our duty to stay in Serie B. You must not think only with the calculator stuck inside your head. If you follow your heart you can't go wrong. If you lose everything at least you have a good feeling about yourself and this is not a mistake. This is maybe the reason why I am in Juventus' management.
You also met with The Pope thanks to football, right?
Yes, thanks to football I got literally everywhere. Even the journey with the Czech president to China in September was unbelievable. We were opening a football school in Shanghai and I met the Chinese president. You don't do that every day.
How did it felt to be part of Czech delegation?
I have experienced lots of things but I have to say that I was nervous. A boy from Skalná got onto governmental private plane and flew with the president to meet another president. I still live the dream. There are still experiences that surprise me in my life even in that age.
Did the Czech president tell you that you would be awarded nation's highest honour?
When we were on the plane he told me not to plan anything on 28th October and then went to his seat. So I didn't know what he meant… (laughs). We have a match with Sassuolo I should be at that game but of course I would take time off to be in the Czech Republic.
Receiving nation's highest honour… this has to be more than a fairy-tale about a boy from Skalná who became the best footballer in the world and is now in Juve's management, no?
Absolutely. It's the highest you can get in my opinion. That award is handed to you by the president of the republic which means you had to do something extraordinary for your country. I don't know if I should be the one getting it but I've always done my best not to be an embarrassment for my country and tried to be a positive image. Everyone is associating me with the Czech Republic and it would be bad if I created a negative image.
What is the reason you became the best in the world?
I had some talent, of course, but it's thanks to will and diligence. You can't do it without that. I think that 10% is talent and the rest is diligence. For me at least. When you are persuading your dream, you can do great things and no goals are too much. You have to work for it, though.
When did you realize it?
When I was 13, Mr Žaloudek, who was my coach back then, was saying to me: "You can't succeed without hard work" so I took it to my heart and followed it. Training lasted two hours but we played football from morning to evening. This is how I did it the whole career. When the training finished, I trained more and more.
As a 13 year-old it had to be pretty hard because boys at that age go to parties and stuff…
There wasn't anything better for me than football. When we had a training it wasn't a burden for me, I didn't mind it. Not even in the critical age between 15 and 17.
Were there moments when you had to talk yourself into training?
I was always having fun so no big crisis for me. Though, it's a fact that sometimes when I had a week off school I wasn't able to go anywhere on a trip or something because I was the whole day on a pitch. I was telling myself sometimes that I would like to live like a normal boy. I did have some experiences outside of the pitch but it wasn't many. I had some regrets but when I look back I don't regret it anymore. Not one bit.
Did it hurt?
Yes, football hurts. Sometimes I was sick of it and I was exhausted. I barely managed to walk back home. However, if you want to do football it has to hurt. I was reminded of that also in Lazio by Mr Zeman whose training was very demanding.
Did you think when you were a boy that football would make you a living?
You can't have these thoughts when you do something just because you will have a lot of money from it someday, it's a bad thing. You can earn a lot of money from football these days but you have to sacrifice a lot. Lots of players have it the other way around nowadays and that's not right. For example we had 4 or 5 weeks of holidays, I'd rest the first 3 days and then I would get back to training. Your body has to be always ready, long holidays are not good.
Speaking of money, Juventus bought you for quite a lot and no Czech footballer has ever beaten you in that, did it have any effect on you?
Yes, I had heavier legs because of that. I had to prove I was worth it. When they pay this sum you have to somehow repay it. On the other hand it also was a great motivation to prove it wasn't a mistake.
Does that mean you cut your holidays short and trained even more?
Well, it was pretty hard to do even more than before. I was 29 and I had to do even more work. It was really challenging to get into the starting XI and be the engine of the team. Everything is possible, though.
Did you have any tricks in the gym?
Physical condition is just an addition. I got better thanks to a specific training by Mr Žaloudek. Everybody were telling me my whole life I had a good shot and I didn't care which foot do I shoot with. And that is thanks to Mr Žaloudek. He would always put targets in the goal and I had to shoot them. With both feet, the whole day, over and over again. In the Czech Republic where there is a winter break (no matches for 2 months) everyone was telling me that I need to rest but I was telling myself: "No, if I want to achieve something, I can rest later."
Is this also advice for things outside of the pitch?
I believe it is. There are a lot successful people in my country and if you look what's behind their success you realize it's always hard work and determination. If I do something I want it to be done right so I can be satisfied with it. I'd rather not do anything if I know I wouldn't be able to give it 100%.
Weren't you asked to be a motivational speaker?
Yes, I just got an invitation the other day. However I don't have time for it and I don't know if I would be the right motivator. Though, it's a fact that what we are talking about now can be said about life in general as well.
Was is hard to finish your career when you were on top? You could have easily played for another two years at least.
I wanted to play at a certain level and I no longer felt that I would be a difference maker. I could no longer be the engine so Juventus wouldn't win anything with me. And to be somewhere 2 years just so I would get paid is not my style. It was better to end it. After all these years I was exhausted so I left the pitch satisfied. I gave it my all so I can have peace in mind.
Really, you do not miss it?
Really, no. I have now a different role but I am still in contact with the team. When we go with Agnelli to play a match, I often fight with him because simply I don't want to lose. I won't change in this.
How do you live with the fact you can't go to streets without being asked to take tons of pictures with fans?
When I finished my playing career I thought the situation would get better after a year or two but to be honest it's even worse. The fans don't see me now as often so it's more unique for them. It's still pleasant, though. When I go outside I have to be prepared for that. I'm not in a good mood everyday but it's not the fans' fault. We play football for them, without the fans, football wouldn't be anything. Therefore if a fan asks me for a picture or a signature it is my duty to give it to him. It doesn't cost me anything and the fan will be satisfied. I pay attention to that and I tell the same to the players as well. It's the least we can do for our fans.
I guess you can't just go for a walk to the city, right?
It's better during the week but it's really not possible on Saturday. I used to keep signing for the fans but now everyone wants to take a selfie. Damn phones…
Aren't you getting tired of it?
It was really unpleasant in Monte Carlo one day when I used to play. I was there on holidays with my family. It was all good but we ran into Italians and the whole square was full of them so the police had to walk us off. Our kids were really young so it wasn't easy.
Was it possible to provide a normal childhood for your kids with your reputation?
It was, but the fact is they were annoyed by it. When I had a day off and I could go for a walk with them they didn't want to go because as soon as we set off the walk was over. The fans were all over, the kids grabbed my wife's hand and continued walking alone. They were keep asking me why do I keep giving signatures to these people. I also wanted to spend some time with family but I couldn't so this was kind of unpleasant.
Despite that you chose to stay in Italy after finishing your career…
I would've stayed here even if I didn't work there. For the kids who go to school in here. Even though, it will change soon, my daughter is 18 and will go off to college to Switzerland or England and my son will do the same in 3 years.
Are your kids more Italians than Czechs?
Yes, they are. They were both born here and when they talk with each other they speak Italian. We speak Czech at home so they speak Czech when they talk with us but that's it. However, it's not a problem, they know more languages so it helps them learning another ones.
Is your son, Pavel, also playing football?
No, not at all. When he was young he wasn't interested in football at all. He is now 15 and he enjoys it but he doesn't play for any club. He used to play basketball, he did swimming, he can do any sport but he doesn't do anything professionally. And I am satisfied with it.
Are you happier that your son doesn't play football?
I am. He couldn't play football in Italy with this name. It would be very difficult. It would be the same in the Czech Republic. I take him with me to my Thursday football night with Agnelli and he likes it. However, I don't know where we would have to move so he could play football without any pressure.
Will you stay in Italy when your kids go off to college?
It will be a big milestone for me and my wife when we say what's going to be next. To be honest I am not convinced I will stay here. Football is very demanding and tiring and I think my wife thinks more about not staying here. Though, we will leave it to destiny.
You've lived in Italy for over 19 years, wouldn't you be scared of coming back to the Czech Republic?
No, me and my wife grew up there. It could be scary for my kids because they were born in Italy and they don't know the Czech Republic that much. However I'm not saying we should go back exactly there…
I see, Florida is a nice place as well, right?
Yes, we have a house there and we spend every summer in Florida. Nobody knows us there. I put on slippers and I can go anywhere. Football is like the 25th most popular sport there.
What would you miss from Italy if you moved?
The weather, the food and people who are more positive and laugh more often than the Czechs. When I go to the Czech Republic I can feel it. Italians are always smiling and try to enjoy life. It doesn't make sense to be upset. I don't know if it's the weather but Italians don't stress themselves much. I guess we are more concentrated on work.
You are good friends with Carlo Capalbo (Italian living in the Czech Republic, he organizes cross-country races), right?
Yes, I like him very much. He brought the 'Italian style' to our country. He is a hard worker, he did tons of work but he is always smiling and cheerful and that's why he has so much success. I've even changed in this aspect but Italians still tell me I am a bit cold.
Italy also changed you in a fashion sense, right?
Yes, footballers are known to be kind of models nowadays. Clothes and cars are part of football, you can't do anything about it. It should have some boundaries, though. I never really understood tattoos for example. I was the only one in Juventus who didn't have any.
Do you still keep yourself fit?
Yes, I do. Less and less, though, but I'm trying. I run and go to gym. From time to time I play golf. I would like to go back to running a half marathon. I ran one in Prague and I would like to try another city.
What about marathon?
No marathons,  not anymore… I ran one in 3 hours and 49 minutes, it's pretty solid but it's too long for me now. I don't have figure for it. I have a big ass and I'm too heavy so my knees hurt afterwards.
What is the thing you spend the most time doing, invest the most money into and put the most effort in?
Again, football. My wife was against it but what can you do? Football is my life. It's a drug. Although, I try to spend more time with my family, when we have few days off we go somewhere on a trip. In summer we go to Florida, in winter we have a place in Alps. You have to enjoy every day you are with your family. It's good that the only person above me is the president so I can adjust my work little bit. It's a fact, though, that it is all moving very fast. I've had one wish for a very long time now and it is to slow down, to live a 'slower life' but I can't quite accomplish it… but you know what? I'm still happy every day.
Juventini can get a great deal on their team to win the title this season by enjoying a welcome bonus .