Juventus director Pavel Nedved believes Juve can be competitive in Europe next season and sets a 6th successive scudetto as a target for the club.
Speaking to Czech magazine Ego, Nedved spoke at length about his day-to-day role at Juventus, his time in the national team as well as the upcoming EURO 2016 tournament.
The following article was translated by Radek Jaska – You can follow him on Twitter here.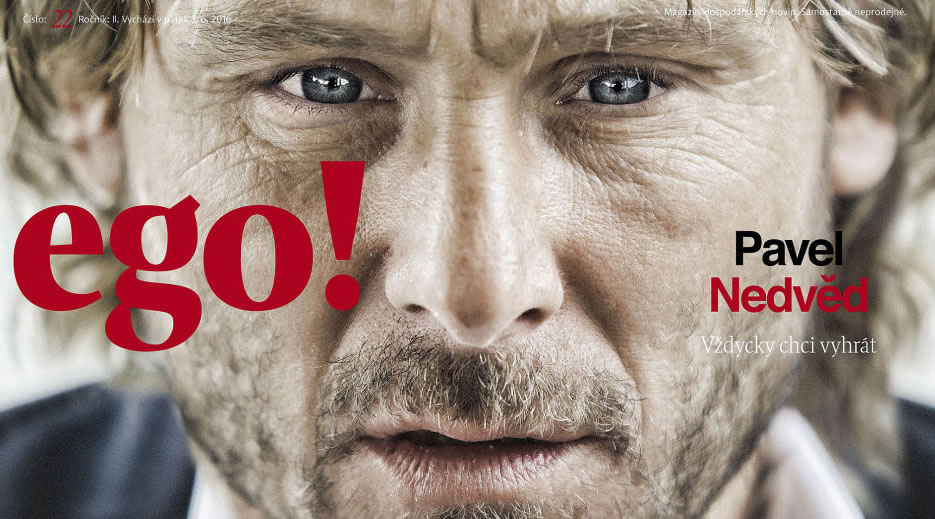 EURO 2016 starts in few days, are you planning to go see some matches?
My summer plans are different, I'm going to be in the US.
Are you going to USA because of the Copa America or is it just your yearly holiday in Florida?
The season was very long and tiring so rest is needed. However, when Brazil will be playing a match, I will be visiting the stadium. I will be in touch with Paratici who is going to France. Of course, we have already began contacts with some players we are interested in. You have to do it earlier, before things get started. The tournament will be successful for some players while other will not play well. The price of those in form will rapidly grow.
You had a very successful EURO 1996 when your team made it all the way to the finals. Had Lazio bought you before the tournament it wouldn't have cost them as much, right?
After a while, I found out that Zdenek Zeman wanted me long before the tournament had even started, but the club's president Cragnotti didn't believe him, so they waited for the EURO's to start. Then, of course, my price went from half a milion to €3.5m. However, I was all ready for a move to PSV Eindhoven, there was already a preliminary agreement, but I ended up at Lazio.
How did it happen? Did Zeman contact you when you were in England (EURO 1996 took place in England) ?

He contanced me twice, it was all agreed on through my agent. Zeman convinced me.
Did you hesitate over whether moving from Sparta Prague to Lazio was the right decision?
I was convinced it would be better for me to take small steps. Like going to Netherlands first…. You know Zeman, he isn't much of a talker, he emphasized the important. He told me I was ready to play in Italy and that he would prepare me for that. To be honest, I was a bit afraid to go straight to Italy but he convinced me. And I guess I'm glad he did.
When you were at the tournament, did you talk with Poborsky about the fact that you were talking with a Lazio coach while he was on the phone with Ferguson?
Not really, as the tournament was progressing, various information would emerge about a certain player in contact with Lazio, Manchester or Atletico. It was plesant. Though maybe it was for us, in that particular moment, too big, nobody could imagine what would happen if they ended up signing for a TOP team. It is too far in the past though…come on, it's been 20 years (laughs)!

Many people are comparing your EURO 96 side with the current one where Czech Republic  will have many young players from Czech league. Do you see any similarities?
Of course, our players have nothing to lose, just like us. If they are hungry enough and they have the will to succeed I think they can go far.
The first match is against Spain. You can say that if they play that match 10 times, Spain would win 8 times and maybe there would be 1 draw or a win…
I think 9 out of 10 times, Spain would win…. but the one Czech win could come at this tournament. Our boys can enter the match with cooler heads than the opposition. They have to win whereas our players can only surprise. Spain can have also some players slightly fatiqued from a long season.
You know some of the players from Czech group very well. Did you speak with Morata or Mandzukic about the tournament?
We talked about it a lot, especially with Mario. Croats will be an extremely tough opponent, they have great players but they are very moody. They can have a day where they lose to Malta but they can sleep well and beat Brazil.
What about Turkey?
Their results are more constant than Croats but I think our team can play well against them. If there is the will, we can beat them.
Do today's National Team players have the potential you had 20 years ago? Some say today's players could only 'wash your boots'…
I think it's more like a tradition. Those before us were saying they were far better footballers than we were and that's how it goes…Every generation has its own values, football changes, it evolves. It is nearly impossible to compare generations.
There are many examples from recent years when a young Czech player went from the Czech league to Bundesliga, they would end up on the bench or even in the stands. Many are saying it is due to lack of motivation. While Nedvěd wanted to become the best footballer in the world, many youngsters are now ok with having a lucrative contract and a shiny car. That's enough for them. What is your opinion about it?
Of course, it is wrong mindset. You have to keep setting yourself higher goals. For example to become the best player in the team that you just joined. The right motivation is essential, you can't do it without it.
Nowadays, many players are saying in pre-match interviews that they go onto pitch to have fun. We have never heard that from you.
That's true. We didn't go onto pitch to have fun, we went there to win. And if a player could enjoy the match while winning, it was a bonus. However, the main thing was the will to win the match.
Maybe that's the difference between your generation and today's one.
I don't know… Though if I and my teammates wouldn't step on the pitch with the intention of winning the match I certainly wouldn't have fun. We wanted to win everytime. Even in friendlies. No discussion about it.
You are now a vice president in Juventus. How do you motivate players who have won the league 5 times in a row?
Winning 5 straight Scudetti wasn't done in close to 80 years. But winning it 6 times in a row hasn't ever been done! Obviously that's our next goal. On top of that we also want to be successful in Europe. People say that yet again we won the Serie A, but this year it was extremely tough.
You experienced an awful start to the season. 3 wins in first 10 matches. What was going on in the club in that particular moment?
It is also worth mentioning what happened in the summer. In June we played a CL final and then 10 players from our squad went elsewhere including many key players like Pirlo, Vidal or Tevez who weren't just great footballers but also important personalities and wonderful people. We tried to replace them. In the end it turned out we completed the squad well but the start was extremely difficult.
If the biggest Czech clubs were in the second half of table after 10 rounds, panic would prevail. What was happening at Juventus?
The main thing was the fact that we were all united. From Agnelli to Marotta we were all in strong agreement that we would back coach Allegri and not make a change. We knew difficulties would occur because of many changes in the squad, we didn't panic and we stood by our decision. What happened in the following months would only show we made the right choice. It showed that Juventus is run by people who really understand football. And this is a very important thing.
In 2016 you only conceded 6 goals. A remarkable statistic…
Juventus is based on Italian defence with Italian players. This is our philosophy, we strongly feel that the core of an Italian team should be made by Italian players. Players who know Italian football tradition. And then we complete the squad with best players from all around the world.
Can Juventus' defence be the key in the squad of Antonio Conte?
Buffon in goal, Barzagli, Bonucci and Chiellini in front of him. I think that is strong formation, even for Conte. We know the guys aren't immortal but I feel they are on top of their game right now and given their experience it will be very tough job to break them in the EURO's.
How do you see Italy's chances in EURO 2016?
They always go to tournaments with a minimal target being the semifinal. Their goals are always the biggest. I think the team is put together well. Italy lack great forwards compared to the past, players like Del Piero, Vieri, Inzaghi, but our young players aren't bad either.
Italian clubs, with the exception of Juventus, are experiencing a downfall compared to the past but also Italian youth national teams have lost something from their edge. Has Italy made some mistakes in that matter? Could they be inspired by, for example, a Spanish model?
It wouldn't be the right thing to do. Every country has its own values, its own football school and it's not necessery to follow in footsteps of someone else. You need to hold on to your own basics, hold on to what made the country successful. And then develop it. Copying someone else is not the right choice. For young players, it is better to have everything in one place. What do I mean? We found out that young players in France or Spain spend more time on the pitch than our youngsters. That's why we made the necessary changes. Our young players now go to school right in the training center and don't spend time comuting to training all the way across town. Undoubtly it is a change for better, it helps the kids in developing.
Do you also keep an eye on Juventus' youth teams?
Absolutely. I go to see Primavera and even younger teams. We will always have talented players, it is about how much time you dedicate to them and how much time they get to spend on the pitch.

How many days a month do you spend on meetings?
Management board meets once or twice a month. For me, the everyday work is important, near the team and youngsters. I am basically in everyday contact with the coach and sporting director. Football always brings something unique, we deal with new things everyday.
Once you said that you see things on the pitch that others don't, what did you mean by that?
Did I really say that? I guess I meant that I experienced a lot of big matches and when a player chooses a certain solution, many people judge it positively but I know, from my experience, that he could find even better solution. And that's what I can be useful at, and that's probably why the club still wants me.
Are you also able to sense problems between players?
Of course. My job is not being in the stands nor the office. My job is to be in touch with the team on an everyday basis and help solve the problems. You have to know when to motivate players and when to raise your voice. Knowing when to do what you need to have the experience of playing football like I have, and you need to always be with the team like I am. Going on the pitch once a month and thinking you're doing the job is a terrible mistake.
How important is your say in the transfer market?
There are three of us who are responsible for the transfer market; Marotta, Paratici and I. President Agnelli supervises. He experiences it all with us but leaves the decision to us. He always says: 'That's why I have you here'. He brought me to the Juventus' board. At the beginning he wanted us to be the best in Italy. That has been acomplished, now our goal is to be more and more competitive in Europe. I think Juventus is not doing a bad job, we played some great matches this year, however our idea is not participating… our idea is to win.
Can Juventus win the CL next season?
It as an extremely difficult competition, the smallest details are decisive. It is not like a domestic competition where it's a long run. In the CL you either do or die.
Italian football is moving slowly compared to other top leagues. Only Juventus could keep up with modern trends from other leagues. You built a new stadium and tripled revenues…
We felt that we were losing pace with the rest of Europe so we decided to invest and build a new modern stadium. It helped us in many ways. However, I agree that Italian football is not what it was 10 years ago.
The Milan teams are negotiating with Asian investors, can it help them?
I guess so. It's true they always belonged to the best Italian football had to offer, now they are noticeably missing there. Investors can help them but it will only highlight the specific role of Juventus who have been owned by the Agnelli family for more than 90 years. It is a rarity, not only in Italy. Italians are patriots and this value is very important to them.
The Agnelli family owns Gruppo Fiat. Have you ever visited one of their car factories?
Of course, I went everywhere; FIAT, Maserati, Ferrari… I visited them all and it was a valuable experience. I know executives from these factories, one member of Juventus' managing board is sports manager of Ferrari. I know they are in the shadow of Mercedes at the moment but still… We discuss football and everything about cars every time we meet, we really are a big family. Everything is connected.
Once you said that when your kids move out you could consider moving someplace else…
The idea is still there, however I have a contract with Juventus till 2018 and I intend to respect it. I only think  about what happens now. I have absolutely no idea what will happen after 2018. It is too far in the future.
Source: Ego (22/2)