Miralem Pjanic believes he could one day become a coach and reveals that Michael Jordan and Muhammad Ali have both been inspirations during his career.
The Juventus midfielder sat down with Esquire to give a lengthy interview where he explained the kinds of midfielders he likes, his views on racism in football and whether an assist or a good passing game is more important to him.
The evolution of football in recent years (possession-based) seems to meet your characteristics –  Do you think it helped you become one of the best midfielders in the world?
"Yes, without a doubt. It's true that there has been a radical change, but much depends on how your coach sees football, what he asks of you.
"He is the first person in charge of the group and must, at all costs, carry out his ideas for the good of the team and its technical project.
"This year I'm having a lot of fun, I like the way we play, how we face our opponents, and I'm sure we will improve a lot more during the season."
We see you're having fun. Do you prefer to complete a match with more than 90% accuracy of passes or with an assist or on the scoresheet?
"Eh, good question. It's difficult to choose. For the role in which I play and how I am made it is important to play with precision, and it satisfies me when I succeed.
"At the same time, the assist is a gesture that I have always particularly liked. They are two different pleasures. Let's say this: the thing you need most to win."
Technique, vision and playing time: all obvious qualities of your football. Is there one that you recognize but that is more difficult for others to notice? For example your reading of the game when not in possession?

"Yes, it is an aspect that I have taken care of and on which I try to improve myself continuously.
"In addition to the position of the ball and the opponents, it is essential to intercept the visual signals that the opponent throws out: I will pay more and more attention to where he looks, who looks, and this is useful to guess who will pass the ball and get there in the right time.
"Then I like playing more than before, seeing the game in advance to steal a ball or cut a line of pressure, an important detail in today's football."
It is difficult to evolve when you reach a certain point in your career, and you seem to be at the height of football maturation. Is there an aspect on which you concentrate your training because you feel that you can still improve?
"If you are a perfectionist, age doesn't matter, it's just a detail. When you live with the ambition to always do something more than others, you always find an incentive to grow and refine yourself.
"Mine at this time is to perform the specific tasks that each game requires, to respond as accurately as possible to the requests that are made to me from time to time.
"The study of games is an increasingly important aspect, and if you want to win them, it is essential to bring to the field the solutions you have tried."
We need to be very aware of our means to impose technical leadership on a talented team. How much confidence do you have in yourself?
"Much, it could not be otherwise. Every high-level sportsman must, first of all, be strong in the head, otherwise don't continue.
"Of course it is not easy to always be sure of oneself. Especially when you are young, it is difficult to find an emotional balance.
"It's a continuous up and down, a good game that lifts you and a bad one that drowns you. You have to be good at going straight, otherwise you risk losing yourself.
"I'm used to not seeing anything as impossible, I've always wanted to be among the best, and I continue to do so."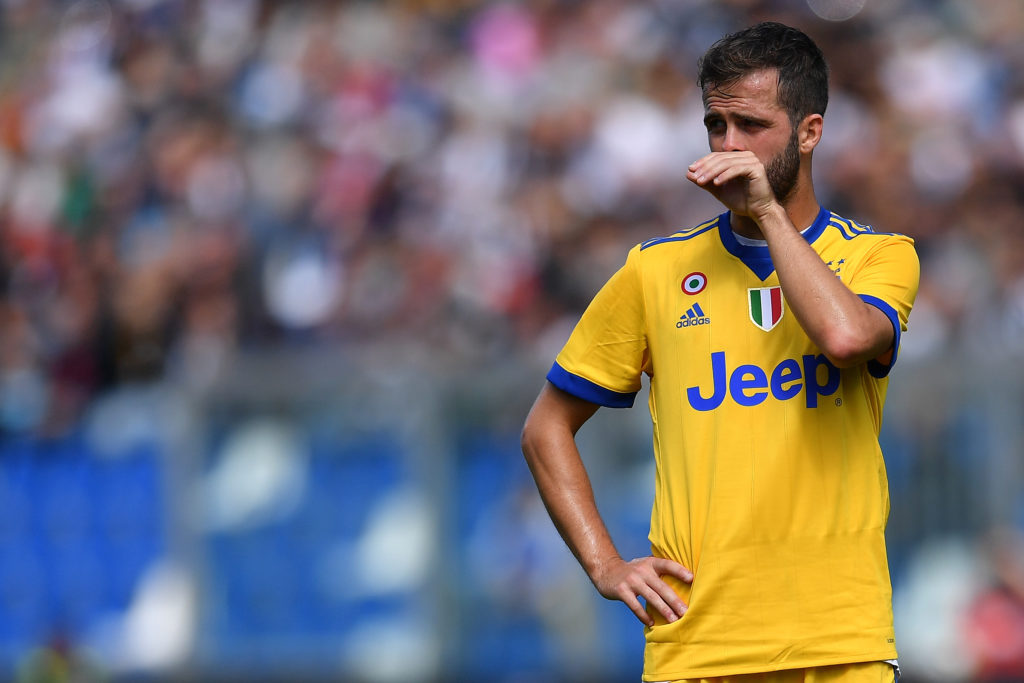 As was Zidane, the legend with which you grew up. And then Xavi, who in more recent times you have indicated as your reference. Is there a young player on the European scene today who impresses you more than others and who can perhaps take Pjanić as an example to follow?
"There are so many talented young people around, but I can't tell you one in particular. Above all, however good they are, the path to reach the level of players like Xavi is very long.
"Or like Busquets, another that I always like to watch. I am fascinated by simplicity, which is not trivial. For me, the footballer who is beautiful to look at is not the one that steals your eye with a subtlety, a back-heel, a touch, but one that, with a seemingly simple play,  runs the whole team.
"You will hardly see me making a flashy player in the middle of three players, it is not what I seek. What moves me in the field is the idea of ​​having the team play well with important passes.
"Because "playing well, easy" is the most difficult thing in football, but also the most beautiful."
To succeed in this you also need a lot of brains, as well as technical skill. And you are a smart player, do you think a lot on the field. Are you like that even in life outside of football? Can you stop and think or do you live easily, concentrating on simple things?
"All I do is read, inform myself about what is happening in the world. I have to do it, I have a son. For the rest I have little time to stop and think, mine is an all-encompassing commitment, and I am always focused on my work, to which I have to devote so much energy because I want people to always be happy to see me play."
What do you feel when you witness an episode of racism?
"Anger. Sorrow. Racism is total ignorance. We need strong gestures and exemplary punishments. We need to identify those responsible and keep them away from football, because football is just a party, and there is no room for them."
Was there a moment in your career where your relationship with football was questioned? Where did you experience a conflict with the game?
"Never. Like everyone, I had happy moments and others less so, but even when things were not going as I wanted, the passion I have for the game has always prevailed."
The most exciting moment of your career?
"The 2014 World Cup qualification, the first in history for the Bosnian national team. And then I will never forget the feeling I had on the day of my debut with Metz, against  PSG, in front of a stadium full of people. I get chills every time I look back at it."
For study, passion, attention to the details of the game you look like the classic player who will one day become a coach. Have you thought about this possibility for your future?
"It is a role as fascinating as it is difficult. On the one hand I feel I am stimulated by the different methods of the coaches, each with his own ideas, his way of transmitting them and working on the field.
"On the other hand, I realize how complicated it is to manage a group of people, to respond to the need to please everyone.
"The human side is as important as the knowledge of the game. Of course if I could steal something from all the coaches I had, I'd become a great technician. An opportunity that one does not waste."
Is there a character, sportsman or not, who more than others influenced you, inspired you, in life and in your way of experiencing football?
"I believe that any sportsman can not help but think of Muhammad Ali and Michael Jordan as figures to be taken as a reference. Two extraordinary examples of all that sport means. Although in truth, I have always followed and played only football. I can't help it, I love it too much."