Juventus                                                      2-0                                               Udinese        

Tevez 8 (J)
Marchisio 70 (J)
---
 Serie A – Week 2  [13th September 2014]  – Juventus Stadium
After a long week away from Juventus amidst the International break, The Old Lady again not only found victory, but did it with another clean sheet despite the absence of Giorgio Chiellini and Andrea Barzagli in the defense. Ogbonna and Caceres are beginning to look like a worthy and very strong pair when called upon in the past two matches. Max Allegri again went into todays match with the familiar 3-5-2 formation, despite not having Arturo Vidal and Andrea Pirlo to his disposal. Upon his arrival, newly acquired Patrice Evra had expressed his will to not only play in his usual position of a Left-back in a four-man defense, but also as a wing-back in a 3-5-2 as he has experience playing in that position when he started his career for Marsala and Monza. Without the leadership of Chiellini, Barzagli, Vidal and Pirlo on the pitch, it was key to have the leadership qualities of Patrice Evra on the left flank.
It didn't take long for Juventus to break the deadlock through a beautiful link-up between Lichtsteiner and Tevez after the play started from a great pass from Roberto Pereyra to the Swiss engine. Although there was much doubt in the past week or so of the availability of Carlos Tevez, after tweeting that he was fine to play against Udinese, it wasn't long until he silenced the doubters with his goal coming after just 8 minutes past Karnezis, who took place of Udinese starlet Simone Scuffet.
Today we were missing our architect and replaced him with a prince. This was certainly not the first time we witness Marchisio master the regista role that we are used to seeing Pirlo play. After bossing the midfield behind Pogba and Pereyra, winning balls, making key passes and eventually scoring the second goal, our future captain played with the same grit and passion he usually possesses. With Claudio in the regista position, the match tends to be faster paced and more dynamic, although we certainly missed Pirlo's free-kicks as there were many around the final third, but nobody can seem to hit a ball quite like il maestro.
Roberto Pereyra was able to make his full-match debut today in the absence of Arturo Vidal, who was still suffering from the knee injury he irritated for Chile during the international break. Pereyra, playing against his former side, was brilliant; he played great short passes, tracked back on defense when needed, and made the pass to Lichtsteiner which created the first goal. All in all, Pereyra looks like he will give great competition for the midfield when everyone is healthy, much like Coman against Chievo, Pereyra looks like one for the future.
While he was unable to score, Llorente was able to hold the ball nicely in the final third and created many opportunities for Tevez and Pogba to lay-off of. The Spaniard came close to scoring a few times throughout the match before being replaced by fellow countryman, Alvaro Morata who made his official Juventus debut as a late sub. After coming off an injury he suffered very early into preseason through a collision with Rubinho, Morata looked comfortable in the number 9 role and forced a very nice save from Karnezis in the dying minutes of the match as he parterned Kingsley Coman who came on for Tevez late in the game as well.
Another victory was achieved in great fashion, but it would not have been possible without the brilliant defense work from Ogbonna, Bonucci and Caceres who contained the electric pair of Luis Muriel and Antonio Di Natale, two strikers that have been linked to Juventus a number of times in the past. Caceres did an excellent job of containing the speedy Colombian, Luis Muriel. Di Natale and Gigi Buffon have no shortage of history, but luckily today Bonucci and Ogbonna were more than capable of containing the legendary Italian goal-scorer and didn't allow him to have any true tests on Buffon.
As Patrice Evra stated after the match that Allegri works his players harder than the legendary former Manchester United manager, Sir Alex Ferguson, it clearly showed in today's match how truly fit and determined the players were as there is no noticeable shortage of grit and energy. With six points, three goals, and two clean-sheets in the first two games, Juventus are off to winning ways to kick off the season as they look to continue their run against Milan next Saturday at the San Siro.
---
Statistics
| | | | | | | | | |
| --- | --- | --- | --- | --- | --- | --- | --- | --- |
| | Man of the Match: | Vote here | | Corners | 4 | | Total Shots:  | 18 |
| | Flop of the Match: | N/A | | Pass Accuracy: | 90% | | Ball Possession:  | 58% |
| | Fouls: | 14 | | Shots on Target:   | 7 | | Formation:  | 3-5-2 |
Formation: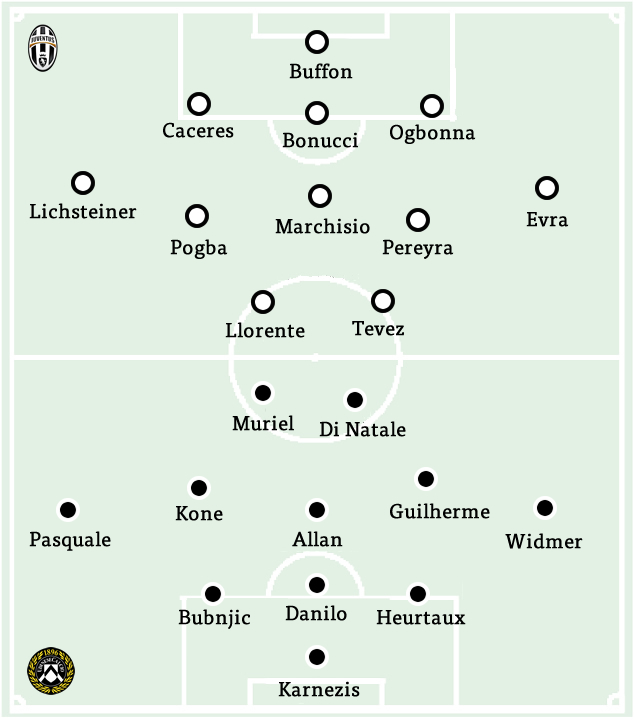 ---
Lineups:
Juventus: Buffon; Caceres, Bonucci, Ogbonna; Lichtsteiner, Pereyra (Padoin 85), Marchisio, Pogba, Evra; Tevez (Coman 81), Llorente (Morata 89)
Udinese: Karnezis; Heurtaux, Danilo, Bubnjic; Widmer, Allan, Guilherme (Pinzi 73), Kone (Thereau 81), Pasquale; Muriel (Bruno Fernandes 46), Di Natale
Ref: Damato
---
Video Highlights: