I was, like many others, rather befuddled when news first broke earlier this year that Szczesny had been chosen as Buffon's successor in waiting. For the Pole has a somewhat curious reputation from his days with the Gunners.
Often thought of as a superb goalkeeper on his day, yet equally renowned for a vibrant character which leaned on occasion towards an absence of the professionalism and desire to succeed required of those who are destined to reach the very top of the sport. He has always seemed a lively lunatic, yet the same can be said of all the greatest shot stoppers, other than perhaps our very own Santo Buffon. For if there is one position which places you always on a knife's edge, capable of immortalising one moment, condemning as a villain the next, it is the goalkeeper.
So it comes as no surprise to find The Great Dane, Rene Higuita, Kahn, Chilavert, all memorable characters (some would say mentalists) who Szczesny counts as his own tribe.
My own opinion is that he was too much of a fan to ever quite manage to fully become solely the professional at Arsenal. His love for the club where he spent 11 years was perhaps too strong for the boy in his heart to find the focus to make the most of his opportunities as a man.
Beyond the colourful on and off-field personality, the chap can play. Despite the smoking incident, passionate embrace of the fans and boyish tendencies, Wojciech did find some serious success in North London. Yet once his place was won, then lost, then won, then lost, he finally decided to head out on loan to Rome. Where he found a different, more mature football culture, a tactically astute brand of football, a wife…and the discipline he had been lacking in England. Whatever the reasons for his moderate, yet notable transformation, essentially from boy to man, it is clear that he has developed in leaps and bounds.
In short, he is not the same player who left England in 2015. He is far superior.
I remember scouting the Brazilian Allisson, who I had wanted us to sign and I believe we were interested. He looked an amazing talent. Yet the Brazil number 1 found himself playing second fiddle to Szczesny for the duration of last season.
"I also think though that Juve have made the best choice they could make, because Szczesny, in my opinion, had a great season last year.

"He was probably the best goalkeeper in terms of consistency, and saves made.

"I think that it's an intelligent marriage between the strongest club and the one who was the strongest goalkeeper last year. (Buffon, June 2017)
Such praise from a living legend, perhaps the greatest keeper of all time, adds sweetly to the statistical analysis made by Squawka which places the Pole as the best performing goalkeeper in the top five leagues of Europe last season.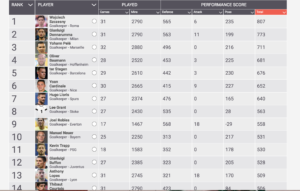 We were never going to be able to forge a like for like replacement for Gigi. The only keeper I see as anywhere near his level is De Gea, whose heart will see him assuredly leave United at some stage solely for Madrid. For huge money. Well beyond the exceptionally cheap fee of EU12.2m (EU15.3 with performance related bonuses) we recently paid Arsenal to secure Wojciech on a 4 year deal until 2021.
It has long been my assumption that the most logical plan would be to highlight the long term successor, ideally from within Italy so that the player would come already well adjusted to the football and culture. Bring him in during the season which seems Buffon's final hurrah, give him a chance to bed in to the club, not just develop the winning mentality and responsibility required of any player fortunate enough to don the black and white, but equally importantly, learn from Buffon and become a part of the squad, invest into the club ethos.
All of these aims are met, thus far, with the signing of Szczesny, who at 27 years of age is now entering the beginning of his prime.
He has grasped at the opportunity, though clearly left North London with a heavy heart. An unexpected sense of humility has also appeared at just the right time…
"I learned more in four months under Spalletti than in 10 years in England…"

'The one thing I want to do is make sure I don't stay still,' 

'I was quite still for five years – sometimes I played better, sometimes worse, sometimes phenomenal, sometimes rubbish. You take steps forwards and backwards. It is not very good for your head if you go up and down and up and down. I want to try to keep going up, with my quality and with my decisions that I make.

'I am 27, the best I have ever been, I still have room to improve and I want to make sure that room doesn't stay empty. I want to go into that room. It feels like a big moment.

'The season before I left I had a very bad season – performances, injuries, off field – it was terrible.

'I could have stayed in an environment that was going negatively for me. Instead the opportunity that came gave me a fresh start. You get a new perspective. You get new coaches and influences. You learn new drills. You do new things. Now I am very happy that it happened, even if the first impression was that I might be out of Arsenal, which was very painful. Now I think it was probably the best thing that could have happened to me.

'The biggest thing I have taken away from these two years at Roma is the fact I grew as a goalkeeper. It's just raising your levels, your standards. I absorbed a bigger knowledge of football, the tactical side of the game. You don't see me with that rush of blood that I used to have as a younger keeper. It's not that I don't feel that rush of blood but tactically you are more aware of when to be involved, when to let the defenders recover.' (Guardian interview May 2017)
I like his openness, his confidence, his eagerness to improve further, his vocal nature and of course his powerful presence as the last line of defence. Also his ambition, for with the World Cup looming on the horizon, his position as number one for Poland might well be in jeopardy if he barely features or when he does, his performances are haphazard, which can happen when spending large amounts of time on the bench. It can be tricky to retain the sharpness when out of the firing line.
My reckoning of the man is that he is superbly talented, has a huge heart and strong character and he needed to get out of England to kickstart his career and personal development as a player and a man. I sincerely believe we have signed a keeper who we might well be talking of as world class in a year or two. And the club should be lauded for working through what was always going to be a majorly difficult task sensibly and as well as I could have hoped.
My only minor gripe is his damn name, which even after learning the Wojciech, remains needing copy and paste for the Szczesny. In terms of how an anglo saxon tongue should attempt to pronounce it, phonetically speaking, the name of our new addition to the squad is Voychek Sheznee. Which would be much easier to remember how to type!
Also, I suspect that Dybala will be pleased to find a fellow Pole in the dressing room. For whilst he is born and bred Argie, he is well aware of his roots. A superb read of that story can be found here.
(NB. Whilst on the topic of Poland, I will mention that I will next week be heading to Moscow, hopefully to clink glasses of russian firewater with comrade Vlad! Failing which, to begin my long overdue conversion to Cossack…I have organised very little indeed, other than a place to lay my mangled head in Russia, then Estonia. My aim is to then head to Riga, Warsaw, Krakow, Prague, Brussels and perhaps Paris before a final week in early September in the motherland to nourish my roots as I half smile at the ever growing army of little monsters born of my brethren and seek the Sussex Downs to take in the majestic view of the valleys and fields as the butterflies rest on my knees. The point of this, is not the beginning of a travel diary, but to suggest an open offer to any of our flock here at juvefc or beyond, who might like to collide and drink and talk all matters Juve and whatever else comes to mind. Please feel free to send word to thegutterpoet@live.com if you are to be found in any of my likely destinations.)
The second player to join of late is 24 year old Mattia De Sciglio. The former AC Milan wide defender comes with a wealth of experience, the ability to play on either flank and from all accounts, a burning desire to start a new chapter in his career.
There are some who doubt his pedigree, which is hard to understand given he has been very much a favourite of Montella, Conte, Mihajlovic, Prandelli and of course Allegri.
Mattia has been considered by consecutive managers of La Nazionale as one of the best Italy has offered, after representing his country at senior level 31 times, which is no mean feat for a player still by many measures a youngster with plenty of potential still to find and plumb. He has featured for Italy at the Confederations Cup (2013), World Cup (2014) and European Championship (2016)…and will be eager to move past his stop-start most recent campaign to stake his claim for a place in La Nazionale for Russia next year.
When it comes to defenders, the most important aspect I first and foremost ponder and judge is Can He Defend? On this score…Mattia is top drawer. He picks his time to dive in carefully, has physicality beyond his outline and height and reads the attacking flow towards his goal very well indeed.
To sign a player with over 130 senior appearances in the top flight with AC Milan, 30+ for his country, still aged just 24 for EU12m (Eu12.5 with performance related bonus) is another outstanding piece of business from Marotta and the club as a whole.
We continue the tradition of bringing the best that Italy can offer to wear the black and white, and I find it bizarre, yet a sign of the times, that a sizeable contingent see this as a poor or average signing. It seems that if we do not sign the players heralded by the media, who cost mega money, then we are failing. Results on the field, for the last six years tell a markedly different story. A team is no built on money alone, it is built by signing the right players…
Desci, as he is nicknamed, is comfortable on either flank, brilliantly strong in the challenge, offering intelligent distribution in the final third. Given our recent decision to avoid Schick, I can but assume our medical staff are 100% confident his various injury woes are behind him, and I am actually quite excited to see him join the fold. For he impressed me hugely during the European Championships of last year and has by far the better part of his career ahead of him.
Whilst I have always considered Mattia a rather quiet chap, clearly some of his quotes and Montella  – who made him captain for a fair few games last term – instruct of a more robust and vocal character. Already friendly with the juve contingent who play for their country, and with a long established relationship with Allegri, the fullback (terzino) seems an ideal addition to the squad.
He will not be vying with Sandro for the LB spot, though can cover there if need be. Most likely he is a direct replacement for Alves. And I suspect that in the long or even short term, he might prove an upgrade. Alves was top drawer on a mere handful of important occasions, playing more as a right winger, than a right back. His immense egoism cannot have been a positive element in the dressing room. And for this and many other reasons, I am glad that five faced goblin has gone, and De Sciglio has come.
He seemed humble and focused upon signing…
I'm very excited to be joining a top club both in Italy and in Europe," he told the club's You Tube channel. "It's an honour to be here and I'll do everything to repay their trust in me.

"My first aim is to settle into this group and earn the respect of my team-mates. That's really important. From then on, I'll do my all to repay the club, showing that I belong here and I'll look to earn the backing of the fans.
No doubt Desci will find the perfect guidance in Stephan Lichsteiner whose experience will be vital in the continued development of one of the finest fullbacks the peninsula has produced in recent times.
For a combined cost of EU27.8m – a pittance by modern standards –  the club have signed two established players of international pedigree, of good age and proven talent, who both know the league and the country.
forza juve
TGP
(Follow me on twitter here)