Torino v Juventus

Serie A Week 11 – Saturday, 2nd November – 19:45 GMT – Stadio Olimpico Grande Torino

---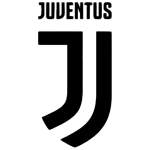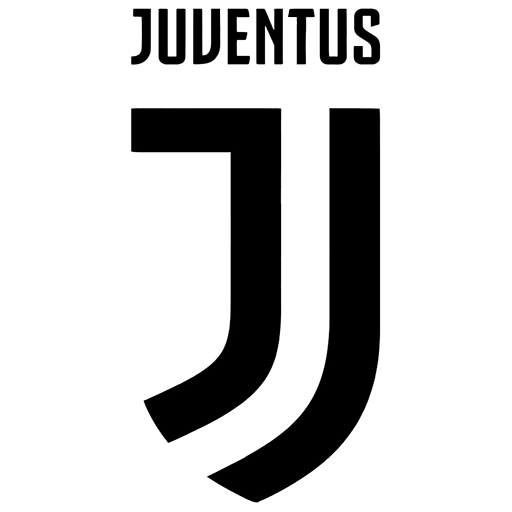 Juventus
The lads replicated the exact same performance they had in Lecce against Genoa, but luckily this time Cristiano Ronaldo came to the rescue, making amends for his earlier mistakes. The chances are there, but the finishing continues to be shoddy, which is obviously baffling considering the quality of the strikers, and the back-line gave away another freebie. The two major flaws going on right now are clear, which should make it easier to fix them. The defensive one seems more easily correctable to me, while the forwards just need to let it fly without letting the misses frustrate them or affect how they play.
The squad looked a bit gassed and predictable, especially after the red card, but help is on its way as Aaron Ramsey and Douglas Costa will soon hit their stride soon and that will be a major boost on multiple levels.
Adrien Rabiot had a mental mistake, but he is actually starting to look pretty good and is slated to become an increasingly useful option to mix things up. The roster is deep, also Mattia De Sciglio and Danilo are available now, and if injuries stop getting in the way, everybody will get their opportunity and nobody will be run into the ground in terms of minutes. Having those alternatives off the bench is a luxury.
Speaking of the Brazilian speedster, the coach floated the idea of using him as trequartista which he apparently already did in Ukraine. While that is an insane idea on the surface, since he thrives when he has room to manoeuvre, good things tend to happen when he cuts back as he is a sharpshooter. The main doubts about that is that could end up being bottled up like it often happens for the other forwards. If it is established that the main focal points of the formation are the strikers, which is a perfectly fine proposition, then it is a sound choice because 4-3-1-2 has been very beneficial. Paulo Dybala would have troubles being as effective while spearheading a pure trident, but also Cristiano has more freedom in this scheme. If it works out for Costa too, it would be the typical win-win-win situation.
Considering the importance of the game, it is unlikely that there will be much rotation, even though Emre Can might be an option considering he will be out in the Champions League. Gonzalo Higuain will be available this time, but Miralem Pjanic is questionable and will be held out in case there is any risk. Rodrigo Bentancur did fine relieving him on Wednesday. It is probably too early to see Costa or Ramsey starting, but you never know.
UPDATE: Ramsey is gaining traction over Sami Khedira in the midfield and Mattia De Sciglio over Sandro.
Probable lineup
4-3-1-2: Szczesny; Danilo, Bonucci, De Ligt, Sandro; Khedira, Bentancur, Matuidi; Bernardeschi; Dybala, Ronaldo.

Injured players:
Chiellini (knee), Perin (shoulder), Pjaca (knee). 
Suspended Players:

Rabiot. 
Formation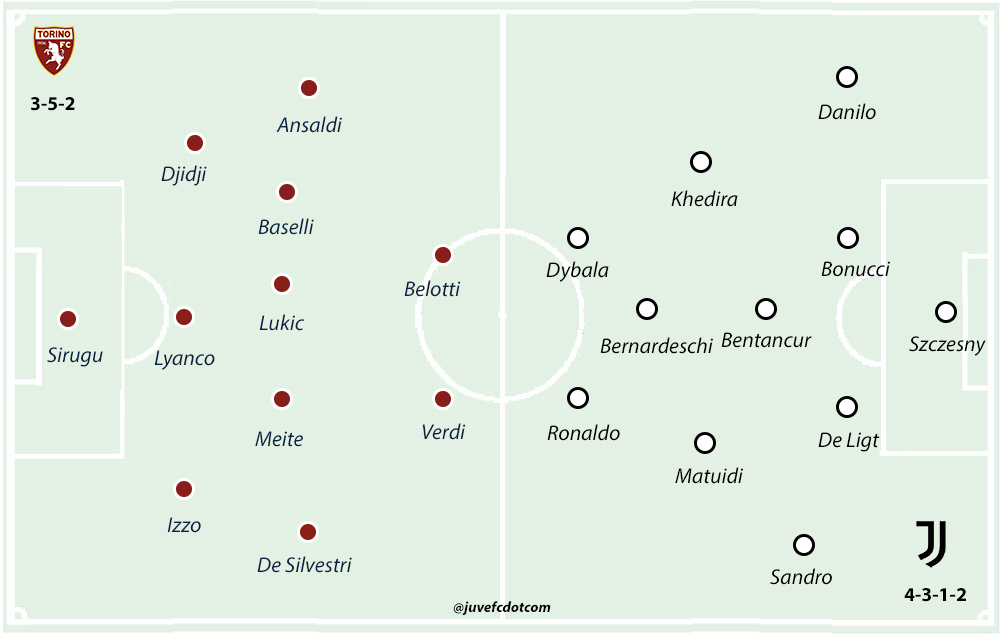 Torino
Despite having a deeper and better squad, Torino have not been as good as in the final stretch of the past campaign, which had allowed them to grab the seventh spot and then qualify to the Europa League after Milan were excluded. They went through the whole play-off ordeal failing to access the group stage, but the early start has not really benefited them domestically.
They are technically better equipped in all areas but the midfield, which is the same, yet Walter Mazzarri is still searching for the right combinations both in the back and up front. They have yet to unlock their full potential. His grit-and-grind style is never going to be particularly good-looking or high flying, but it yielded success in the past and it was fair to expect a natural progression, especially thanks to the newcomers.
They kept two promising centre-backs, Kevin Bonifazi and Lyanco, after strong loan spells at SPAL and Bologna respectively, where they had displayed good upside. They both had their chances, but evidently they did not impress the coach that much since he continues to tinker. Nicolas N'Koulou had an early skirmish with the management since he apparently asked to be sold: they moved past it, but he and Armando Izzo have not been dominant so far. Players have rotated in and out the third and final spot, but they allowed 16 goals so far, which is paltry considering the way they play.
They added one more wing-back to their collection, Diego Laxalt, but, despite them being a big part of their plan, the foursome including Lorenzo De Silvestri, Cristian Ansaldi and Ola Aina has combined for just one goal and one assist, both logged by Ansaldi, who is the only one who is faring well and one of their best playmakers. The cross from one flank to the other has been a staple in Mazzarri's schemes for years, but teams have sniffed that out. Their midfield often lacks the phosphorus to properly feed the attackers when the opponents defend diligently.
Simone Verdi was the crown jewel of their summer, and they paid a pretty penny to have him, but he has not returned yet to the player he was in his Bologna glory days after flopping at Napoli. He has looked a bit too enamoured with the ball and in sync with the teammates. Perhaps playing more centrally has hurt him. They also have had Iago Falque at half service at best after a severe ankle sprain during the summer. He was a major cog last season and his lack of production has hindered them in a way Verdi has not been able to compensate. The best duo so far has been the one composed by two pure strikers, Andrea Belotti and Simone Zaza, who are not even that well-assorted, but at least have always a good dose of energy and, more importantly, they score. Belotti has been fantastic so far with, netting five goals in Serie A play and six in Europa League, and he is the heart and soul of the team.
Mazzarri's go-to scheme is 3-5-2, with some detours to 3-4-2-1 when he is feeling frisky. He has yet to unleash that formation with both Falque and Verdi, which should be their end game and should theoretically work out pretty well. However, he usually simply advances one central midfield and that takes away some unpredictability. He has switched to 4-3-3 more often than in the past when he was forced to come back, but he mostly stuck to his philosophy in starting line-ups.
Despite being underwhelming so far and likely underestimating opponents at times, they will surely get up for this game and their physicality could be a problem. Belotti is masterful on creating troubles on his own and Zaza, should he start, plays off of him pretty well. They look to be too one-paced in most contests, but they will be dangerous if they have room to counter.
They have not won since late September, but they did manage to hold Cagliari and Napoli to a tie at home. They could be down two centre-piaces as Nicolas N'Kolou is suspended and Tomas Rincon is dinged so Lyanco will helm the back-line and should be more in his element there, and Tomas Rincon is dinged up, so Sasa Lukic will likely serve as deep-lying midfield, probably flanked by Soualiho Meite and Daniele Baselli, with Alex Berenguer an option to have more dynamism. In both cases, the drop-off is steep in terms of muscularity and especially leadership. Verdi for now has a slight edge in the three-man race to start up front.
UPDATE: Falque picked up a thigh injury on Friday, so it will be either Verdi or Zaza starting. Rincon has recovered enough to be called up, but it remains to be seen whether he will start or not.
Probable lineup
3-5-2: Sirug; Izzo, Lyanco, Djidji; De Silvestri, Meite, Lukic, Baselli, Ansaldi; Belotti, Verdi. 

Injured players:
Bonifazi (hand), Falque (thigh). 
Suspended Players:

N'Koulou. 
Juventus and Torino Performance Statistics