Planning your trip to Turin, Game Days and watching Juventus
I'm often asked about how to watch Juventus, what to do in Turin, where to stay and countless other questions. If i could make just one recommendation, it would be to contact Around Turin.
Around Turin is a large international community of Juventus supporters, ably headed by Maurizio, a Turin native and a Juventus season ticket holder who knows all there is to know about navigating Turin, which hotels to stay in, where to eat, and most importantly, how to have an unforgettable experience at the Juventus Stadium.
Maurizio can help plan every aspect of your stay, including the famous Around Turin pre-game meet-ups with fellow Juventini from around the globe as well as post-match meals. To save you time, here's a list of valuable links to help you plan your trip to Turin – I can't recommend Maurizio and Around Turin enough – They should be your first contact if you're planning on watching Juventus:
A great article on the Around Turin experience : http://bleacherreport.com/articles/2666326-around-j-gives-visiting-fans-the-true-juventus-experience
Testimonials on the Around Turin experience: https://www.aroundturin.com/testimonials/
More information on Around Turin: https://www.aroundturin.com/experience/
The Around J website and App – A must for any Juventino: https://www.aroundturin.com/
Download on Android  |  Download on Apple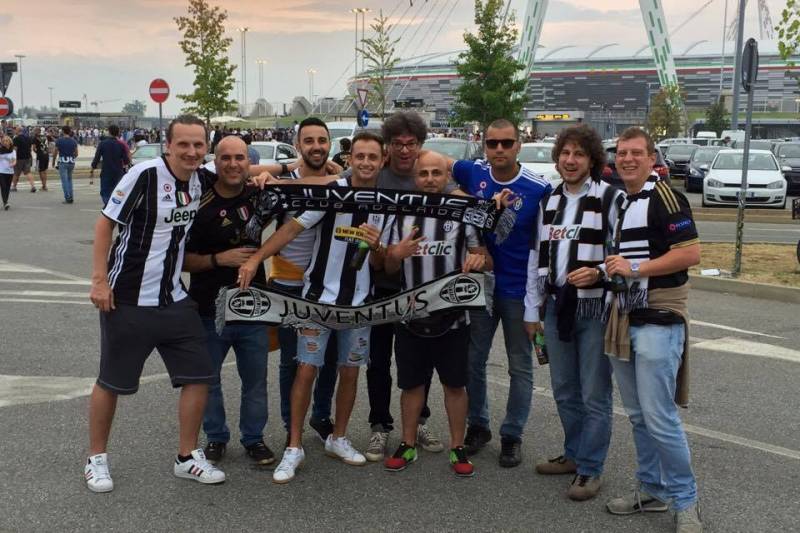 About the Stadium
Juventus Stadium opened on 8th September, 20011 and  replaced Juves' old Stadio Delle Alpi, which had been the home of the club since 1990. Juventus tifosi famously never warmed to Delle Alpi primarily due to the distance between stands and pitch, poor sightlines and lack of atmosphere.
Juve broke ground on the new stadium on 1 March 2009 while plans for the new stadium date back to as early as 2003. Juventus bought the stadium from the city of Turin, they moved to Stadio Olimpico di Torino in anticipation of returning in a few years time. Demolition of Delle Alpi started in 2008.
For the official opening of the stadium on 8th of September 2011, the club organised a friendly match between themselves and Notts County (1-1). Notts County had been chosen because of the historic ties the clubs have since 1903 when Englishman and Juventus player John Savage arranged for Juventus to wear the black-and-white kit that Notts County traditionally play in.
How to get there
First of all, to save you time and effort, Around Turin can help you with transportation for Juventus Stadium – Maurizio will be happy to help get you from the city centre to the stadium and back, please contact him and Around J here.
Juventus Stadium is located in the north of Turin, approximately 7 kilometres from Turin's city centre and main railway station.
The stadium lies just south of Turin's semi ring road, the Tangenziale. Take exit Venaria from the northern section of the road.
On matchdays a special tram service (line 9) connects the stadium with metro stop Bernini. Bernini can be reached with metro line 1 from Turin train stations Porta Nuova and Porta Susa.
On non-matchdays the stadium is best reached by bus. From the city centre (Via 20 Settembre – Via Bertola) take bus 72 or 72b in the direction of Viale Bruno Sper. or Picco. The journey takes almost 40 minutes, get off at stop Stadio Alpi. Both buses also pass train station Porta Susa.
Address: Corso Gaetano Scirea 50, Torino