Ciro Immobile is on a tear this year: 13 goals in 21 matches, without any penalty kicks, and three assists in 21 matches. He has been a consistent, terrific scorer. In the summer, Torino bought half of his rights from Genoa for €2.7M, entering a co-ownership with Juventus. There were whispers about an outright purchase, with the second half included in the Ogbonna deal, but Juventus in the end maintained their half. This means that they will have a role in deciding the future of the player this summer.
Immobile wore the Juventus shirt in 2008/2009 and 2009/2010, coming out of the youth system, collecting five appearances and scoring no goals. After a season spent in Serie B between Siena and Grosseto (22 games, three goals), he was loaned to Pescara. He thrived with Zeman's offensive-minded tactics, scoring 28 goals in 37 games. The following summer, Juventus sold his half to Genoa for €4M, but that season, started with high hopes, wasn't successful: five goals in 34 matches.
Torino gambled this summer and won. There are some similarities between Zeman's Pescara and Torino's Ventura but we have to consider that Pescara was a top Serie B team while Torino started the season with the goal of avoiding relegation. Anyway, two sides that play quickly, relying on the counterattacking game and exploiting the one on one in open spaces. Although, the volume of chances created per game can't even be compared: Immobile at Pescara had around four to five clear-cut chances to score per game, on a good day he scored three, on a bad day one.
He learned last year that in Serie A you have to finalize every chance you have and he's doing just that. He averages 0.72 goals per game, shooting 2.7 times per game. He shot a total of 56 times this year and this means that he's scoring a goal every 4 .3 shots he makes. Simply deadly. Watching Torino, you immediately notice how much he bothers the defenses, constantly working on the defensive line (2nd in the League in the offside stats behind Di Natale, with 1.4 per game), making multiple runs towards the goal, and, when he beats the offside trap he's just a clever and creative finisher.
A player that is cut for Ventura's schemes, but would his playing style work well under Conte?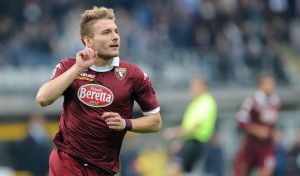 First of all, we need to address the fact that he has already been coached by Conte, in 2010 at Siena and he failed to become a regular starter. He played only four times in Serie B and twice in Coppa Italia, scoring six goals, before being shipped to Grosseto. However, it was a very raw Immobile (and also a very inexperienced Conte) and things would probably work differently if they met again.
At Juventus, strikers have to work a lot to create chances, for them and for the others. In that sense, the team have found two excellent strikers in Carlos Tevez and Fernando Llorente. Juventus rarely rely on the counterattacking game. The simple reason is that other teams usually sit back to crowd the room and prevent them from creating easy chances.
These two facts don't go combine well with Immobile's characteristics. Moreover, he isn't a good passer: he averages an abysmal amount of passes per game (17.8), with a 72.7% pass accuracy, he has only 2 assists and averages 0.7 key passes (usually on the counter) per game. He's not good with his back to the goal either, as he's pretty skinny, nor in the areal duels, having lost the 83% of those.
Technically and tactically, he isn't Conte's ideal striker. But other factors must be considered to evaluate the likelihood of his transfer to Juventus this summer.
I assume that Tevez and Llorente will be Juventus players next year. Behind them, it's wide open. Vucinic was on his way out in January and has been continuously injured, Giovinco has been openly contested by the fans, Quagliarella is out of the EL list. There are good reasons to think that all three will leave La Vecchia Signora this summer. There have been rumours about Conte and the management considering a total revamp of the attack this summer, bringing in new and hungrier players. Only his performances will say if Osvaldo will be worthy of a roster spot next season, certainly the €19 million option to buy seems a little high.
Will Juve be willing to make a big splash for another striker?
Probably not. At least one of the young strikers already owned by the club will make the team. In my opinion, Gabbiadini is almost a lock: even though he will never be a forward that score 20-25 goals per season, he has the skills required by Conte.
There are still two or three spots open in Juventus future attack. I don't think that Zaza (five goals in 20 matches), Boakye (three in 19), Beltrame (0 in 17) and Diagne (four in 2) are in the conversation: it's definitely a battle between Berardi and Immobile.
There is no doubt that Domenico Berardi's future will be at Juventus: it's a matter of when, not if. He's very young, therefore Juventus might decide to let him play one more season in another team. Immobile is 24, not super young.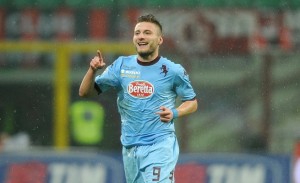 He's basically in that part of his career where it will be decided whether he's a big club striker or a provinciale striker. His abilities might be an alternative weapon to complete the skill set of Juventus attack. He would also be able to pair with both Llorente and Tevez.
This summer, Torino proved to be very determined when it comes to co-ownerships and getting what they want. They tricked Fiorentina into accepting a €3,8M offer for the half of Cerci. From Torino, they already expressed their desire to keep Immobile with pugnacious statements. They'll put up a fight, that's for sure.
So, in the end, what are the odds of seeing Immobile in a Juventus shirt next season?
I'd say 25%.