Juventus' deflated win against relegation fodder, Benevento, was a classic case of art imitating life. Twice they held the lead only to be pegged back by the bottom side, they won, eventually, and a magnificent Douglas Costa goal will have glossed over the performance; a win is a win at this stage of the season. The lethargic and down trodden mood was palpable after Juve's defeat to Real Madrid in the Champions League Quarter Final first leg and it hadn't lifted by the time they took to the field four days later in Campania. Juve and Napoli have set an incredible pace in Serie A (either club could conceivably not win the league having secured over 90 points) and the game in Turin at the end of this month could well be the title decider. Despite the exciting climax to the domestic season our European adventures haven't been as encouraging, to be fair we've made a dramatic rise in status over recent years with two final appearances, those finals have provided average performances but ultimately two defeats. The defeats have been greeted with a certain amount of optimism for the following season and confidence has been building for a while that Juve are finally within touching distance of their final opponents, Barcelona and Real Madrid. However, this confidence has been built on words and misty-eyed optimism rather than substantial actions and despite the shocking manner in which Juve were knocked out by Real Madrid last week it leaves them at a huge crossroads.
The horror with which Juventini greeted the announcement of the starting line-up for the first leg of the Real Madrid tie must have been almost audible across Europe as they lined up with a two-man midfield, just like the Champions League Final of 2017, Allegri's focus was on the wings where Alex Sandro was deployed on the left and Costa on the right. Miralem Pjanic and Medhi Benatia were suspended so Rodrigo Bentancur, ahead of Juve stalwart, Claudio Marchisio, and Andrea Barzagli stepped in. One has to question Allegri's reasoning for playing Barzagli, a man who time and again was beaten by the threatening pace of Son Heung-min in the second leg of the previous round against Tottenham Hotspur. Against Real he lined up, albeit in a different position, against Cristiano Ronaldo and Karim Benzema. The only reason apparent reason behind Barzagli's inclusion is his experience, but that will only get you so far when you're up against arguably the best attack in Europe.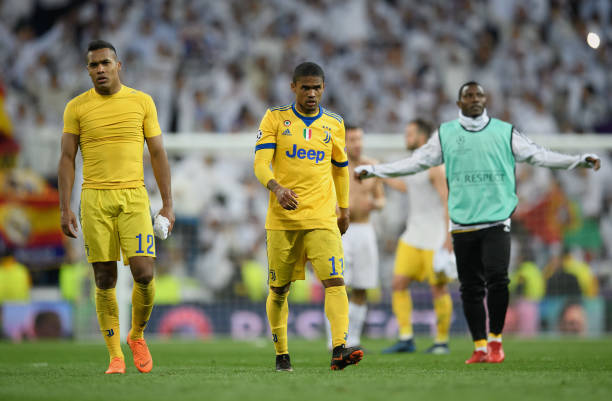 On the flip side, Bentancur's fleeting appearances in the first team have given reason for optimism and his first half performance against Real was as composed and mature as one could've hoped for; he was willing to track back, make tackles and start Juve's sporadic attacks. His performance can't be faulted. Similarly, Sami Khedira's first half display was at odds with his less than consistent 2017/18 season, in Pjanic's absence he played a great game just when it was required. Personally it was amusing to see him being the subject of lavish praise at half time only to be lambasted by fickle elements of Juve's support in the second half, some things never change. His second half display wasn't up to the standard of the first but he certainly wasn't our biggest culprit; he was more a victim of circumstance, of Real's second goal, that was the killer. That goal, the product of some childish defending between Giorgio Chiellini and Gigi Buffon, combined with Juve's innate ability to be their own worst enemy, was simply one of the finest you'll ever see and whether you agree with applauding the opposition or not, the ovation from the Juventini inside the stadium was more than justified. As a football fan sometimes you just have to applaud the opposition, it doesn't happen often and had his effort ended up in row z everyone would've laughed, but it didn't and the team's confidence drained away. Their perceived lack of confidence in big European games has been mentioned by many pundits and it's hard to argue against that when it is clear the players' heads drop when they concede in these big games. In the end the match statistics were fairly even; Real had 14 shots to Juve's 12, five shots on target to Juve's two and 56% to 44% possession. However, the overall impression was that Real were in second gear for much of the game, whereas Juve, in order to get anything from the game, had to play at their top level. Juve do not have the luxury of Cristiano Ronaldo, but Juve simply do not have a player of his calibre, a match winner, and it is apparent without Pjanic that Juve lack a dynamic creative presence on the pitch.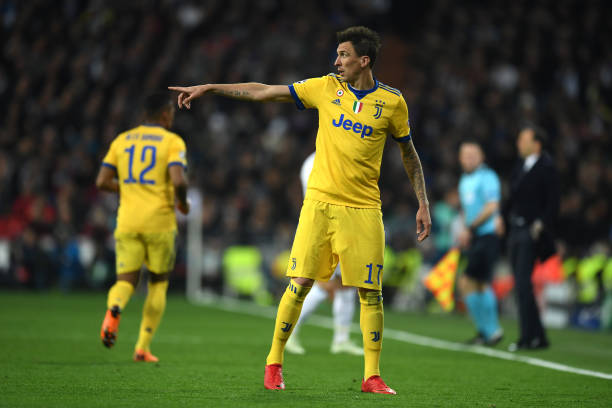 The second leg was supposed to be a foregone conclusion and given their performances against both Barcelona and Real this year it was perhaps even more unbelievable Juve scored three and kept a clean sheet (almost). The team and Allegri deserve a huge amount of credit for not simply preserving energy ahead of the final Serie A games. Allegri finally ditched the two-man midfield and it was obvious to everyone watching that Juve are a much better team when they have support for Pjanic in the shape of Matuidi and Khedira. The focus on the wings and getting crosses into the area paid off and it was a huge reason behind Juve's success on the night. Special mention must go to Khedira who quietly had one of his best games of the season, if he could sort out the consistency issues he can still play a part for Juve. Mandzukic too, who looked well off the pace versus Benevento, must be praised for his two goals and impressive centre forward play. As for Juve's sickening exit, the debate around the injury time penalty will continue long after I'm dead and buried and it's a subject for another time.
Allegri has to take the blame for the exit after playing the two-man midfield in the first leg when it has been proven time and again to be ineffective against quality opposition and they had to go all out in Madrid after the poor showing at home. The inclusion of Bentancur in the first leg, despite his encouraging performance, over Matuidi or even Marchisio, is puzzling, especially when he was facing Kroos, Modric and Isco. Playing Alex Sandro on the left may work domestically and it has to be acknowledged that injuries and suspensions have forced Allegri's hand somewhat, however it clearly didn't work and Asamoah was left exposed to Real's counter more often than not. Last season's Champions League Final saw Juve play Dani Alves on the right, Mario Mandzukic on the left and the ill-fated two-man midfield. Same tactic, same outcome. It is both bizarre and frustrating to expect a different outcome by using the same tactic against the same team.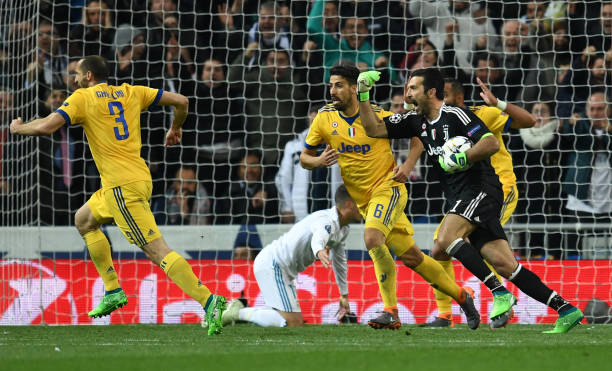 So the European campaign ends in disappointment, it is easy to point the finger at a lack of domestic competition given they've won six titles in succession, this is partly true as the Serie A title isn't wrapped up yet and although it is within reach Napoli have pushed them all the way. The Coppa Italia final versus Milan next month would seal Juve's fourth successive domestic double. Domestic dominance is becoming almost given for Juve and glancing at the table after the Real defeat would show a team who has dropped only 12 points all season. They are the cream of Italian football and Real Madrid, as in the Final last June, simply swept them aside in the first leg. It can be argued of the two knockout ties this year Juve have only played well for one game and a 20-minute period versus Spurs, it isn't an exaggeration to say they were outplayed for the rest of those ties.
It is mildly embarrassing for a team to be revered and feared in their homeland only to be made to look inferior against quality continental opposition. Remember Italy is one of Europe's flagship leagues and although competition from Napoli, Roma, Lazio and Inter have increased the pressure and improved the league as a whole, it can be said barring a few other average teams (Milan, Sampdoria, Fiorentina and Atalanta) the rest are very poor, with the bottom six or seven extremely so. Although this example is probably comparable with England or Germany, their top teams are still producing quality performances in Europe and there isn't a real question over the lack of competition in those leagues.
If Juve aren't careful they could fall in to a similar trap to Celtic in Scotland, they are by far and away the best team in the Scottish Premier League but are out of their depth in top European competition. A slight exaggeration when compared to Juve but it's a little too close to the truth for some. Juve were mostly unconvincing in the group stage, they almost certainly stole the aggregate win over Spurs in the Knockout Round and were not so much outplayed by Real but always somewhat inferior, a step behind, and gave themselves too much to do despite their heroic efforts in Madrid. Unfortunately, it isn't it isn't the first time Juve have simply looked miles behind Europe's elite teams and their response to this season's disappointment will be crucial.
The time for reflection, finger pointing and dissection is over, with the post mortem out of the way the second part will focus on the way forward.